Don't Get Let Down When You Need a Lift
August 08, 2017
Sponsored Content
Sponsored content
The need to hoist cargo, packages and containers has been around for a long time, but many of the technologies, manufacturing techniques, materials, hoist designs and characteristics of modern hoisting products are relatively new. In this world of 'price point only' many corners can be cut to make something that's inexpensive, but unfortunately quality may suffer.
There are some products where low pricing and premature failure won't necessarily hurt anyone, and their failure rates are just an annoyance. We all have had experiences with products that do not live up to our expectations.
But there are some products that should never be compromised because of pricing, safety and lives can depend on quality engineering and components. Hoists are one of these areas where quality and dependability can make the difference between life and death as well as profit and loss. When selecting hoists, it's critical to consider their life cycle as well as the quality of their components. Durability matters because many users continually take them past their rated load, shortening the life of the hoist and putting themselves at great risk.
Manufacturing at the Lowest Cost
'Made in America' does mean something and makes a product more sought after. But in a modernized global society people are wise to compare pricing if they think that the quality is comparable.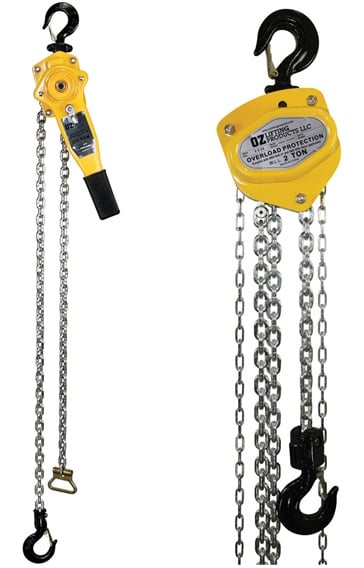 Figure 1. Hoist design as well as quality components improve safety and ease of use. The precision and quality of mechanical components reduces the amount of "effort to lift" an operator has to apply to do the same job, resulting in longer hoist life and user safety. OZ Lifting stands out when it comes to quality and overload protection. Source: OZ Lifting
As a result, less manufacturing is done in the United States. Labor cost, environmental regulations, lower corporate taxes and restrictions and labor laws have made it so that many companies have to look overseas.
But not all offshore factories and products are the same. Like everything else, there are good and bad examples.
Diligent engineers and procurement professionals need to know as much as possible about the hoist supplier as well as the factory manufacturing it. More safety supervisors are looking at overload protection as part of their buying decision. This important feature needs to be of the highest quality and accuracy.
Knowing the key elements of any lifting gear as well as its quality characteristics is vital. These elements include the rigging, design and mechanical components. This applies to both mechanical and powered hoists, and are important features of chain hoists, lever hoists, trolleys, clamps, winches and cranes.
Lever and chain hoists are good examples where the design as well as the parts and safety features engineered into them illustrate how well-engineered components lead to a quality finished product (Figure 1). In this useful link, Oz Lifting Products offers a breakdown of the key elements in a hoist.
Standard lifts are 10 and 20 feet for the chain hoist and 5, 10, 15 and 20 feet for the lever hoist. Custom lengths can easily be made for special applications; no one does this faster and at a lower cost than OZ Lifting. Same day shipping on custom rigs is the norm.
Available hoist ranges are between .75 and 9 tons on the lever hoist and .5 to 50 tons on the chain hoist. Without overload protection the hoist can be subjected to higher loads and forces. The overloading of a hoist presents some important considerations.
Probably most obvious are the chain and hooks. While these parts are typically designed to be triple the overall rating, this may not be enough. Sudden movement such as shock loading or rigging adjustments due to tensioning may cause dynamic stresses that can expose the chain and the hooks to forces beyond these safety factors. This can cause catastrophic failures to the hook, chain or integral components inside the hoist
Because the results of catastrophic failure threaten life and property, OZ Lifting uses forged alloy steel hooks (and safety latches) as well as electro zinc plated chains for corrosion resistance that are rated at five times the maximum overall rating of the hoist itself. A hardened machined lift wheel ensures smooth and long-lasting operation. Oz Lifting's hoists are designed to operate in even the harshest environments ensuring durability and safety.
The effort to lift is a key part of the mechanics as well. Operator fatigue can slow down productivity, a critical factor that OZ accounted for when designing hoists requiring 20-35 percent less effort than many competitors when lifting heavy loads. Fully-enclosed gearing protects the gears and brakes from debris that could affect smooth operation and reduce the life of the hoist.
A key feature of the OZ manual chain hoist is the unique hand-wheel design that allows operators to be located at the side or even above the hoist without the fear of jamming. Also featuring all-steel construction and fully-enclosed gearing, OZ Lifting's chain hoists are fitted with thrust bearings on lower hook assemblies. This feature allows units to rotate easily while suspended, preventing the load chain from twisting.
Be Safe. Why Overload Protection? Never Guess the weight of Your Load!
Overload protection is just that – a safety mechanism design built into a product to protect it and its operators from potential damage. It also helps the user to determine the weight of their load. However there are special considerations when it comes to overload protection with hoists, they are not all created equal. Calibration, if not done correctly, will only have overload protection by name.
This is why OZ Lifting brings in all manufactured products from carefully screened and trained factories. Quality starts at the top and having direct oversight at the factory helps OZ Lifting stay on top. All products are inspected, calibrated and load-tested at the main facility here in the United States where the test certification is generated. This includes overload protection settings that are critical in saving property and lives. A video showing a lever hoist triple-tested at 50 percent overload demonstrates how clever and innovative designs save cargo, equipment and lives.
Using special testing, the OZ overload limiter is factory-set at approximately 50 percent over the rated load. As the load hits 50 percent over the rated load, the overload engages, which prevents operators from using a cheater pipe or other mechanical advantage to create more leverage while eliminating the chance for hoist failure and injury. Repetitive overload stresses will eventually begin to stretch hooks, chain and interior components of the hoist, any of these could be dangerous and life threatening.
Note, the OZ Lifting overload protection assembly will allow the hoist to be lowered while the brakes hold the load. This means the load can be safely lowered and a higher-rated hoist can be used instead.
Overload protection takes the guesswork out of the operators' hands. The inherent safety built in assures that if a user guessed wrong it won't result in hoist failure. Another feature that saves time and money is that the OZ hoists don't need to be recalibrated after an overload is activated, as it automatically recalibrates the setting with no other adjustments.
A View From the Top
Global dynamics have set the stage we are on now. Domestic corporations are all but told to manufacture overseas where they aren't shackled with workman's comp, social security, medical insurance, retirement, high wages and so many other inherent requirements to keeping a domestic workforce.
As a result, 90 percent of the world's hoists are made in China. This is not necessarily a bad thing. It keeps costs low. But, as stated earlier, there are good factories and bad factories in Asia. The key to finding and maintaining quality requires commitment, which starts at the top. Done right, quality does not have to cost more.
The key consideration is that products are safe. Overload settings have to be precise and reliable. Hooks, chains, alloys, overloads, safety stops and even mounting hardware need to have safety factors required by set standards in the industry. OZ Lifting's components are typically rated five-fold the stated specifications. And OZ Lifting's relationships with their manufacturing facilities are mature and productive.
What you don't want when buying a hoist is a product coming from a company that is in the middle of a learning curve with their manufacturing facility. Design, manufacturing, testing and calibration must work hand-in-hand to deliver hoists with consistent quality and performance.
This is especially true as factories learn how to accurately calibrate and maintain quality standards. Most factory set calibrations are not accurate and there are huge variations in performance among different hoist manufacturers.
That's the main reason behind why OZ Lifting performs all calibration and overload testing here in the United States with their experienced and standardized testing procedures. All hooks, chains, alloys, mechanisms, clutches and parts as well as calibration are performed and tested at the same U.S. facility. In-house rigging is one reason that custom orders like chain lengths are easily and quickly accommodated by OZ Lifting.
Back in the USA
With ingenuity and the right resources 'Made in the USA' can mean something again, and OZ Lifting is doing its part by bringing manufacturing back onshore. Automation technology and modern factories – as well as stable energy costs – mean that once again, American manufacturers can compete while preserving the environment, workers' safety, benefits and jobs.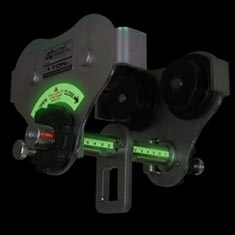 Figure 2: Innovation and automation allow these domestically designed and manufactured push beam trolleys to compete head-on with offshore versions. These high-quality units from OZ Lifting are packed with features and are calibrated for accurate protection. (Source: OZ Lifting)A case in point is OZ Lifting's push beam trolley. Manufactured in the United States, this competitively-priced trolley is packed with features such as double-sealed ball bearings for long life, coated zinc finishing for anti-corrosion and safe handling, anti-drop plates, glow-in-the-dark decals for extending work conditions and adjustability. This trolley and the new OZ beam clamp have also been accepted as man rated (Figure 2).

OZ Lifting's push beam trolleys also feature a unique frame design based on a universal tread pattern. This allows the trolley to ride on either I-, S- or W-style beams. The fully assembled units also feature built-in width adjustment indicators.
Conclusion
All hoisting and transport technologies are not created equal. There are good and bad imported solutions. In the past, these have been more costly, but OZ Lifting is changing the rules by partnering with companies who work together to make domestic products affordable and innovative, not imitated.
No matter where something is made, quality and safety are of the utmost importance. Quality at every stage means safety, reliability, and long life. Value-added service and fast response times are also key when time is money and items need to be picked up and put back down.
Understanding the importance of value-added expertise and service coupled with the safety and fast turnaround of a responsive company like OZ Lifting can provide safe top-quality custom solutions with rapid turn around.