MMA structural adhesive for tough to bond substrates
Engineering360 News Desk | December 01, 2022
Methyl methacrylate (MMA) structural adhesives offer distinct advantages over other adhesives, such as fast room temperature curing, excellent mechanical properties and a broad range of adhesion. While older MMA adhesives bond a wide range of materials, they do not work well with difficult to bond metals like hot dipped galvanized steel, or tough semi-crystalline plastics like polyamides. To overcome this limitation, ITW Performance Polymers has developed and added Plexus MA8105 as the newest adhesive to the Plexus line, continuing to push the limits of what is possible with MMA adhesives and address the challenges of earlier generations.
The MA8100 family of products are easy-to-use 1:1 mix-ratio high-strength and elongation acrylate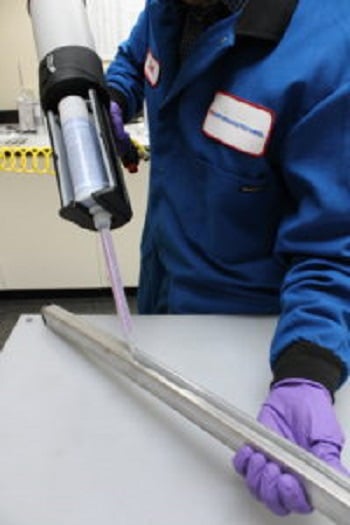 Source: ITW Performance Polymers adhesives with excellent adhesion properties on metals, including several types of galvanized steel, composites, rubbers, coatings and thermoplastics. They offer the added benefit of greatly reduced odor that is typical of acrylate adhesives. The new Plexus MA8105 is a 5 minute working time product with fixture times between 12 minutes and 15 minutes and is formulated to realize quicker product throughput.
MA8105 cures quickly in a range of temperatures, enabling fast throughput. Quick dispensing and part joining mean manufacturing and assembly can be optimized to produce more parts per hour. Labor shortages in the industry mean manufacturers can turn to the creative solutions offered by the Plexus team to structurally join their parts in a fast, efficient manner.
Plexus MA8105 also has significantly higher heat resistance compared to competitive structural adhesives. Possible applications identified by ITW Performance Polymers include reinforcement and panel bonding, and rivet or weld replacement.