Solar cell efficiency chart goes interactive
S. Himmelstein | November 28, 2022
The Best Research-Cell Efficiency Chart developed at U.S. National Renewable Energy Laboratory (NREL) is now interactive. The data system now provides the ability to retrieve decades of research data and create custom charts that focus on specific technologies or time periods.
The chart contains information on a range of different photovoltaic cell technologies and their evolution over the last 50 years. Users can track improvements in traditional silicon solar cells as well as advancements in emerging technologies, such as perovskite solar cells.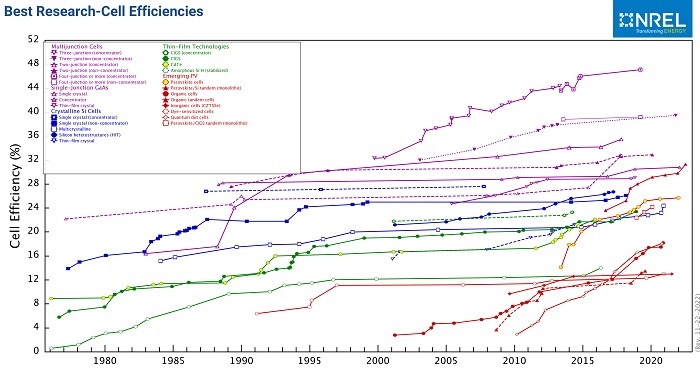 The interactive chart can zoom in to a specific time period and generate technology-specific charts or those that compare specific technologies. Source: NREL
"There's much more than just the efficiency of a solar cell," said NREL physicist Nikos Kopidakis. "There's the current, the voltage output, and other parameters and who made the cell. In most cases, now you can mouse over and there is a pop-up showing you additional parameters for that cell. It's more informative."
The information can be accessed in a full data file, and the static chart will also remain available.