Sensor detects specific gases using AI
Marie Donlon | November 22, 2022
An artificial intelligence (AI) enhanced chemical sensor that detects specific gases in the air with high sensitivity and selectivity has been developed by researchers from Saudi Arabia's King Abdullah University of Science and Technology (KAUST).
According to its developers, the device relies on machine learning to distinguish gases based on how they give rise to subtle temperature changes — an issue that has proved challenging for other sensing technologies that fail to detect a target gas among a mix of chemicals in the air.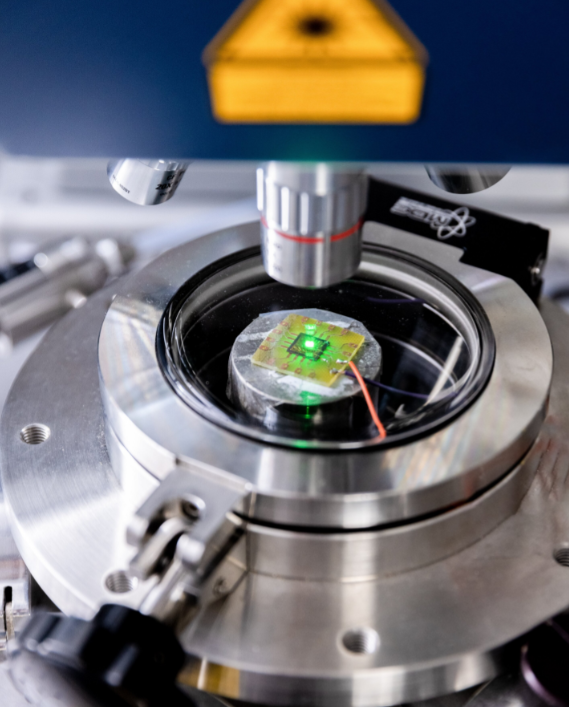 The team's sensor could be used in settings that require sensitive testing for gases, such as medical diagnostics or for the detection of dangerous industrial gas leaks. Source: KAUST
To develop the device, the researchers used a microbeam resonator, which is a heated strip of silicon clamped at both ends. This bends the strip to the point of almost buckling.
"When operated near buckling point, the heated microbeam shows significant sensitivity to different gases when they have a heat conductivity lower or higher than air," the researchers explained.
For example, gases, like helium and hydrogen, with a higher thermal conductivity than air, will cool the microbeam, thereby increasing its stiffness and its resonance frequency. Meanwhile, gases with a lower thermal conductivity, like argon, tend to produce the opposite result.
According to researchers, the shift in resonance frequency is determined via a microsystem analyzer vibrometer.
Using AI, the researchers analyzed the data and identified changes in resonance frequency associated with different gases. The researchers suggest that together, data processing and machine learning algorithms produced unique signature markers for each gas under test to create a gas classification model.
During testing, the algorithm could identify helium, carbon dioxide and argon with 100% accuracy.
The device, which could potentially be used to detect industrial gas leaks or to perform medical diagnostics, is detailed in the article Highly Selective Multiple Gases Detection Using a Thermal-Conductivity-Based MEMS Resonator and Machine Learning, which appears in the IEEE Sensors Journal.