A "bubbly" solution for detecting COVID-19
Marie Donlon | October 26, 2022
A team of scientists from the U.S. Department of Energy's Pacific Northwest National Laboratory (PNNL) is detecting the COVID-19-causing virus, SARS CoV-2, using high-tech bubbles.
To create nanotech bubbles that burst when encountering SARS-CoV-2 in the environment, the team filled micelles, which are molecular structures found in soaps and detergents and that feature oils, fats and sometimes water, with salt to produce an electronic signal.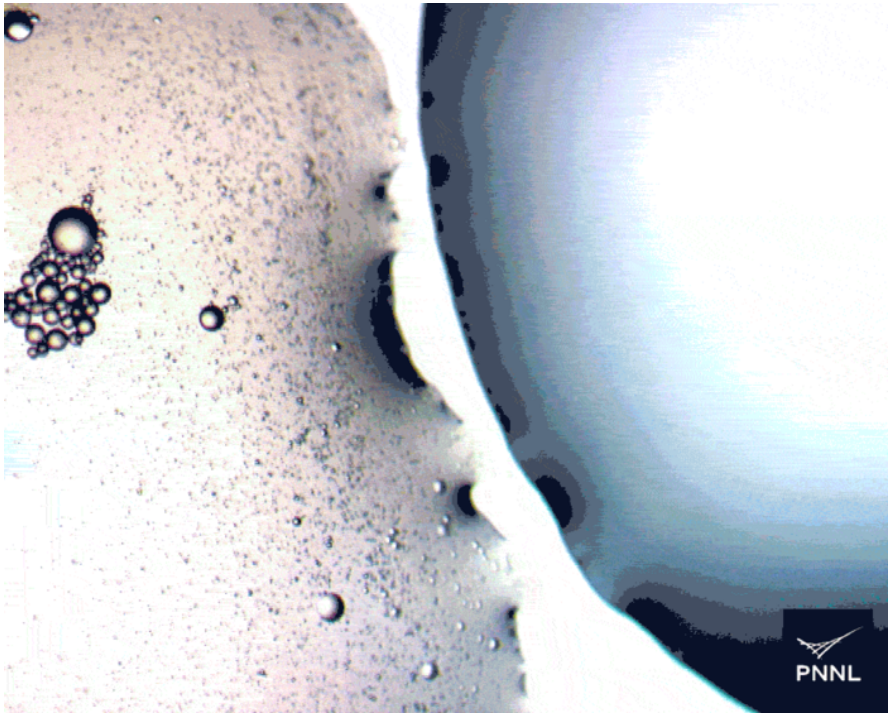 Source: PNNL
When injected inside the micelle, which is stamped on the surface with copies of an imprinted particle for SARS-CoV-2, the salt is inactive. Yet, when a viral particle encounters one of the imprinted receptors on the micelle's surface, the micelle bursts open and spills the salt and immediately sends out an electronic signal.
Although micelles tend to be delicate in bubble form, the PNNL scientists fortified their COVID-19 detecting micelles, modifying them so that they pop at the appropriate time — specifically when a viral particle is encountered.
As such, the PNNL team created a micelle that is bilayer, featuring one polymer-coated micelle within the other, and entirely immersed in water. The 5 microns-wide micelles feature several imprinted silica particles that are 500 nm wide on their outer surfaces. These imprints, according to the PNNL team, each offer an opportunity for COVID-19-causing viral particles to bind, thereby forcing the bilayer micelle to burst.
"Combining micelles with a technology to imprint or stamp them is not something many people have done before," explained the researchers. "Imprinting a molecule with our molecule of interest inserts a vulnerability into the micelle — which is what we want in this case."
The researchers are eyeing future applications wherein the technology could be wall- or ceiling-mounted in schools and hospitals and offer alerts to occupants instantly when COVID-19 is detected in the atmosphere.
The article, Detection of SARS-CoV-2 by functionally imprinted micelles, appears in the journal MRS Communications.