System helps solar panels keep their cool
S. Himmelstein | November 23, 2022
Researchers in Spain dug deep to design a cooling system for solar panels. An underground, single-phase, closed-loop heat exchanger circuit acts as a natural heat sink and prevents overheating of photovoltaic components.
Installed in a borehole at a depth of 15.5, the water-filled, 18 mm diameter single U-shaped copper tube was demonstrated in outdoor tests to reduce panel temperatures of an array consisting of two 270 W modules by up to 17% and improve solar panel performance by about 12%.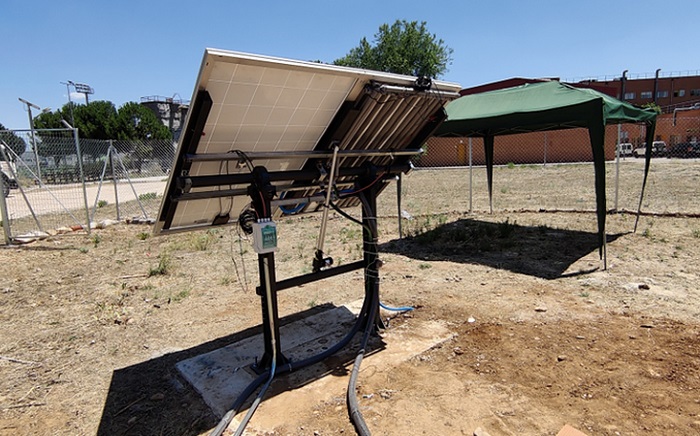 A heat exchanger serves as a heat sink. Source: University of Alcalá
The cooling technique devised by researchers from Universidad de Alcalá and Ingeniería Industrial Ibérica S.A. involves the application of a heat exchanger onto the back side of a solar panel to remove excess heat. This heat is transferred underground by coolant fluid at a flowrate of 1.84 l/min per square meter of solar module and is refrigerated by another U-shape heat exchanger placed in the borehole and filled with water from a local aquifer.
The underground heat exchanger described in the Journal of Solar Energy Engineering could enable the solar energy system tested to produce 152 Wh more than its uncooled counterpart.