New 32 kN tools and jaws from RLS
Engineering360 News Desk | September 22, 2022
Rapid Locking System LLC (RLS), developer of the first press-to-connect fittings for the HVAC and refrigeration industries, now offers new 32 kN jaws, which are compatible with most of the larger press tools currently in widespread use.
These jaws can be installed with a powerful press tool from Klauke with a pressing force of 32 kN to complete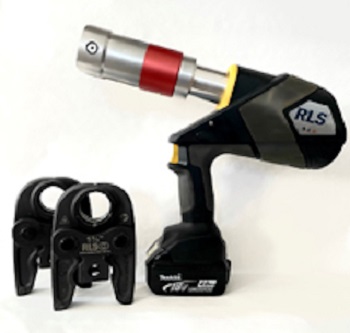 Source: RLS the press cycle in just 10 seconds. It comes with a 4.0 Ah Makita lithium-ion battery that charges in only 15 minutes and delivers approximately 350 to 400 presses per charge. A jaw rotation of 350° allows installation in tight spaces.
In addition to being compatible with the new 32 kN tool, 32 kN jaws supplied by RLS can be used with any popular models such as the RIDGID 300 series, Milwaukee M18 Series, Viega, Dewalt and many RLS-compatible jaws for virtually every major press tool on the markets.
Access the RLS Tool & Jaw Compatibility Matrix to see the compatibility of different press fittings and tools.