Sensitive optical sensing tool for medical, industrial use
S. Himmelstein | September 22, 2022
A new kind of ultrasensitive optical sensing instrument engineered at the University of Alabama combines the advantages of the two types of interferometers currently available, making it both compact and highly sensitive.
The Mach Zehnder-Fabry Perot (MZ-FP) hybrid fiber interferometer described in Scientific Reports broadens the scope for reaching unprecedented levels of strain resolutions for passive fiber sensors. The device achieves one femto-strain of resolution, meaning it can detect the change of one billionth of a micrometer (10-6 m) out of one meter.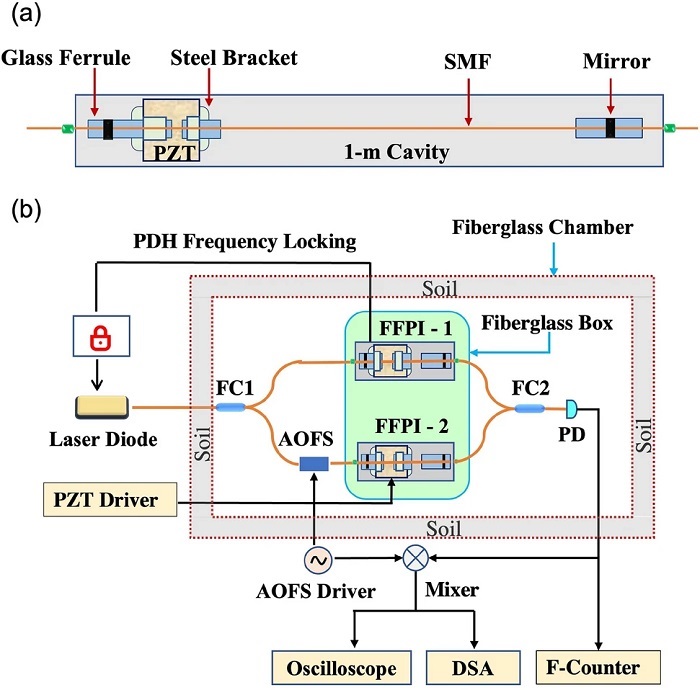 (a) Schematic diagram of the fiber Fabry-Perot interferometers (FFPIs) used in the experiment. (b) System layout of the MZ-FP hybrid interferometer. Source: N. Hoque and L. Duan/Sci Rep 12, 12130 (2022)
The instrument embeds optical resonator-based interferometers into a double-path interferometer and demonstrated record-breaking strain resolutions across a broad range of frequencies. Detecting extremely weak signals that formerly were not measurable by existing technologies makes the instrument valuable for a wide array of applications. The researchers suggest the MZ-FP hybrid fiber system could be of value in weapons monitoring or earthquake prediction in addition to medical diagnostics. Acoustic sensors based on the new system may be able to document weak physiological acoustic signals indicative of human health conditions.