Green light for North America's first freshwater-based wind facility
S. Himmelstein | August 18, 2022
The Supreme Court of Ohio has approved the permit to construct North America's first freshwater offshore wind-powered electric-generation facility. The Ohio Power Siting Board was deemed to have appropriately granted a certificate of environmental compatibility and public need to Icebreaker Wind.
Lake Erie Energy Development Corporation plans to construct a six-turbine wind farm about 10 miles off the coast of Lake Erie near Cleveland. The project has been billed as a small-scale demonstration project to test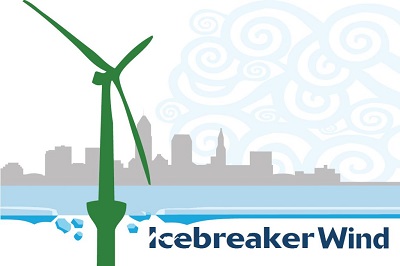 Source: Lake Erie Energy Development Corporation the viability of offshore wind farms in Lake Erie and the other Great Lakes. Icebreaker Wind would generate 20.7 MW and potentially expand in the future.
Opponents had challenged the Power Siting Board's decision, primarily arguing that the state has not received enough data on whether the facility poses significant harm to birds and bats. The court majority concluded that the conditions on the project application were sufficient to protect wildlife and to ensure that the facility represented the minimum adverse environmental impact.
Icebreaker Wind is projected to have a $253 million local economic impact and create more than 500 jobs.