Lake bacteria tapped to neutralize algal bloom toxin in drinking water
S. Himmelstein | February 13, 2019
An outbreak of harmful algae during 2014 in Lake Erie prompted officials in Toledo to issue a "do not drink" advisory, leaving most residents of the Ohio city without a safe water supply for three days. The health threat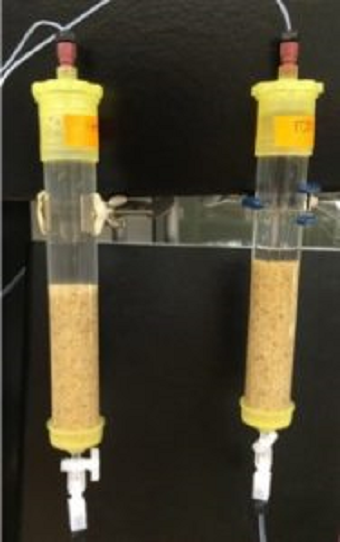 The lab-scale sand biofilters contain bacteria that break down microcystin toxins. Source: University of Toledostems from the microcystin produced by the cyanobacterial algal blooms.
In a real-world application of fighting fire with fire, researchers from the University of Toledo and Wayne State University are using naturally occurring Lake Erie bacteria to remove microcystin from drinking water. Bacteria isolated from Lake Erie were demonstrated to degrade the MC-LR microcystin toxin, a highly toxic form, at a daily rate of up to 19 ppb.
Thirteen water samples used for the study were collected from visible algal blooms in the summers of 2014 and 2015 in the western basin of Lake Erie. MC-LR was added to each sample every three-to-four days for approximately four weeks, alongside a control group that did not receive additional MC-LR. Specific combinations of the bacteria proved highly effective in degrading the toxin, suggesting that this treatment approach could have averted the 2014 drinking water crisis.
None of the microcystin-degrading bacterial isolates is associated with human disease, so their use in future water-purifying biofilters is unlikely to be a public health concern. This biological treatment approach could be more cost-effective and less environmentally impactful than chlorination, ozonation and other technologies currently in use.
The research results are published in the Journal of Great Lakes Research.