How robotics is changing the drywall industry
Amy J. Born | August 05, 2022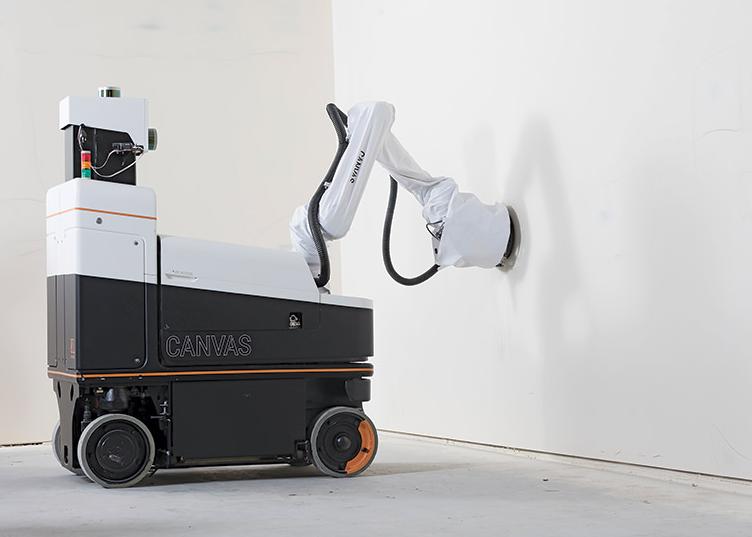 The Canvas robot finishing drywall. Image Credit: Canvas
The combination of rising building costs, labor shortages and high demand have led construction robotics company Canvas to introduce its latest drywall innovation: Level 4 Targeted Spray (L4TS) system. Based on the Canvas finishing machine, this new system makes drywall finishing safer and more predictable than before.
Seven industry technical contractors — Webcor, DPR Construction, Swinerton, Nevell Group Inc., KHS&S, Daley's Drywall & Taping, Inc. and California Drywall — have joined the Innovation Partner Program introduced by Canvas in December 2021. Their crews train on the Canvas system and operate machines independently, which has led to better outcomes for workers and their projects.
The Level 4 Targeted Spray worker-controlled machine sprays a Level 5 finish (the entire wall is sprayed prior to sanding) and a Level 4 finish (only the drywall seams are targeted). This flexibility allows Canvas partners to offer their clients finish levels that reduce cycle times and improve schedules, while maintaining safety and quality.
(Learn more about safety products at GlobalSpec.com)
"We started by inventing new processes for drywall with our worker-operated machines and level 5 process, but our goal is to provide ongoing solutions for every aspect of our customers' needs," said Canvas CEO Kevin Albert. "L4TS is a watershed moment for Canvas because it represents a major leap in capability for Canvas Certified Finishers, but also the success of our Innovation Partner Program and our ability to drive the industry forward together. We're proud to listen to our customer's feedback and deliver solutions that further improve drywall finishing."
Canvas's response to current building industry challenges is to focus on safety, efficiency and quality, while training workers for the jobs of the future.
"Canvas has not only produced a revolutionary tool for drywall-finishing, but they're constantly improving their product in response to the industry's needs and our own challenges and opportunities," said Swinerton director of innovation Aaron Anderson. "Being able to work with a company that welcomes feedback and delivers real-time solutions is why we value our relationship with Canvas. We look forward to the future of this partnership and seeing the innovations that Canvas will continue to bring to this space."