Model selects optimal sites for EV charging stations
S. Himmelstein | June 07, 2022
Selecting optimal sites for electric vehicle (EV) charging facilities is a daunting process that must account for travel flow, user demand and the capacity of the regional power infrastructure. The results of an extensive literature review and modeling analyses conducted by North Carolina State University researchers may help to streamline such siting challenges.
Unlike previous research in this field, the bilevel computational approach applied by the researchers addresses both power grid and transportation network requirements to solve the siting problem. The power system component of the model accounts for the limitations of the power distribution network, such as its power flow, voltage and current. The transportation component of the modeling scheme accounts for the number of travelers, the routes that they take when traveling, and how far their vehicles can go before they need to be recharged. To account for user decision-making, the model tries to identify locations that will minimize travel time for users.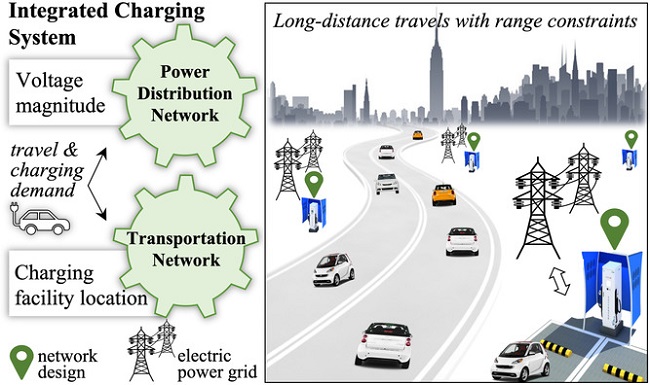 The modeling approach considers interactions among power distribution and transportation networks. Source: Leila Hajibabai et al.
The researchers are negotiating with power utilities and state and local government officials to use the model detailed in Computer-Aided Civil and Infrastructure Engineering to inform EV charging infrastructure development in North Carolina.