Electric vehicles could benefit from this deployment plan
David Wagman | April 01, 2019
Duke Energy is proposing a $76 million initiative to spur electric vehicle adoption in North Carolina, its home state.
In a filing with state regulators, the utility outlined its three-year plan to offer incentives to customers. The proposal would help fund the adoption of electric school buses and public transportation, and also could lead to almost 2,500 charging stations across the state.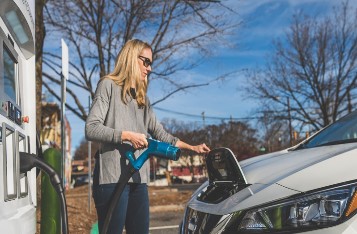 The proposal could lead to almost 2,500 charging stations across the state. Source: Duke EnergyCurrently, North Carolina has more than 10,000 plug-in hybrid and all-electric vehicles and around 600 public charging stations.
The utility said that it intends to recover the costs of the pilot program through base rates charged to customers.
The proposal has several components:
Residential EV charging
The program would provide a $1,000 rebate for qualifying Level II charging stations for up to 800 residential customers. Level II charging allows customers to charge their EVs faster than a standard wall outlet.
Public charging
Duke Energy would install and operate more than 800 public charging stations across North Carolina, including DC Fast Charging, Public Level II and multifamily locations.
Fleet EV charging
The program would provide a $2,500 rebate for 900 qualifying charging stations for commercial and industrial customers that operate fleets that are moving to electric and plug-in hybrid vehicles. Municipalities and universities also would qualify for these rebates.
EV school bus charging station
The utility would provide financial support to eligible customers to procure up to 85 electric school buses. Duke Energy would install the associated charging infrastructure.
EV transit bus charging station
The utility would install and operate more than 100 electric transit bus charging stations for eligible transit agencies electing to procure electric buses.
The program follows a similar $10.4 million program being considered by the utility regulators in South Carolina. And it would follow a number of other utility-backed initiatives across the country to promote EV adoption.
In 2017, the Florida Public Service Commission approved an EV Infrastructure Pilot proposed by Duke Energy Florida, including public Level 2 and DC Fast Charging.
Since at least 2018, ConEdison is supporting the deployment of electric school and transit buses in New York, in addition to planned fast-charging networks and residential customer charging research.
In Georgia, Georgia Power has installed 25 public fast-charging stations since 2016.
In January 2019, the Michigan Public Service Commission issued an order approving Consumers Energy Company's request for a three-year pilot program to invest in EV charging infrastructure.
The Maryland Public Service Commission authorized electric public utilities operating in that state to move forward with a five-year pilot program of residential, workplace and public charging stations.