Coating enables paper to behave like plastic
Marie Donlon | June 16, 2022
A sprayable coating developed by researchers from the University of Tokyo, Japan, can reportedly imbue paper products with plastic-like properties, but without the issues posed by traditional plastic.
The coating — dubbed Choetsu — reportedly strengthens and waterproofs paper via a combination of methyltrimethoxysilane (a silicon and carbon derived compound that serves as a drying agent), isopropanol (an alcohol used in hand sanitizer) and tetraisopropyl titanate (a carbon- and titanium-derived compound used as a surface coating in paints and plastics).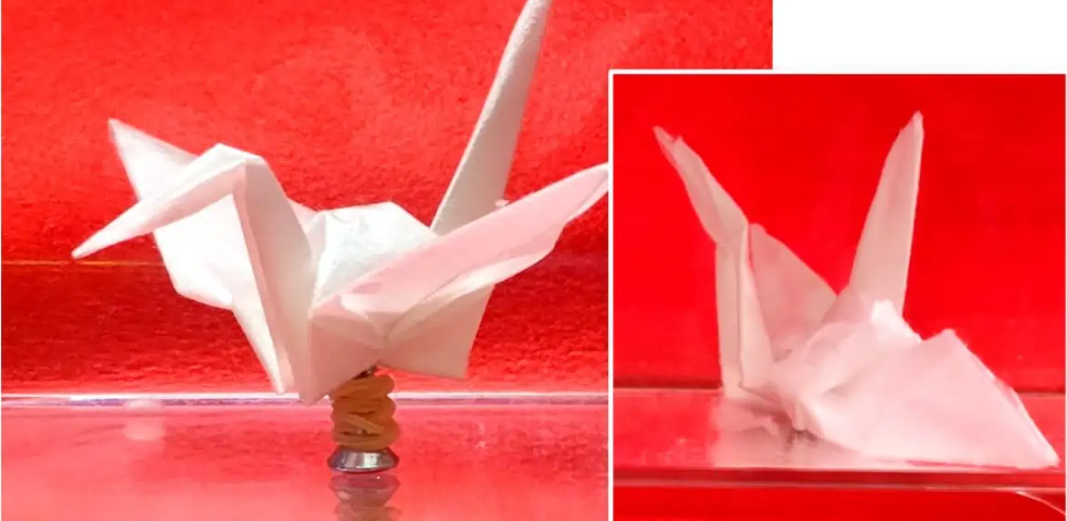 An origami crane made from paper and coated with Choetsu (left) and uncoated (right). When submerged in water, the coated paper crane keeps its shape while the uncoated one quickly saturates with water and starts to disintegrate. Source: Hiroi et al.
Once dipped (or sprayed) in the mixture and dried at room temperature, a layer of silica and organic molecules form on the paper, thereby strengthening and waterproofing the material. The material also features a thin layer of titanium dioxide nanoparticles, which repel dirt and bacteria.
In total, the combination of chemicals used to create the coating reportedly easily breaks down over time, unlike traditional plastic, which does not quickly degrade.
The University of Tokyo team is eyeing the coating for food packaging applications.
The study detailing the coating, Photocatalytic Silica-Resin Coating for Environmental Protection of Paper as a Plastic Substitute, appears in the journal Industrial & Engineering Chemistry Research.