Scientists create slippery, self-healing coating
Marie Donlon | March 15, 2022
A self-healing amphiphobic — a molecule that possesses both hydrophobic and hydrophilic elements — solid slippery coating has been developed by scientists from the Indian Institute of Technology (IIT) Guwahati.
The self-healing slippery coating demonstrated rapid self-healing properties — repetitively healing itself up to 50 times — after sustaining damage. Healing, according to the researchers, took place in under one minute.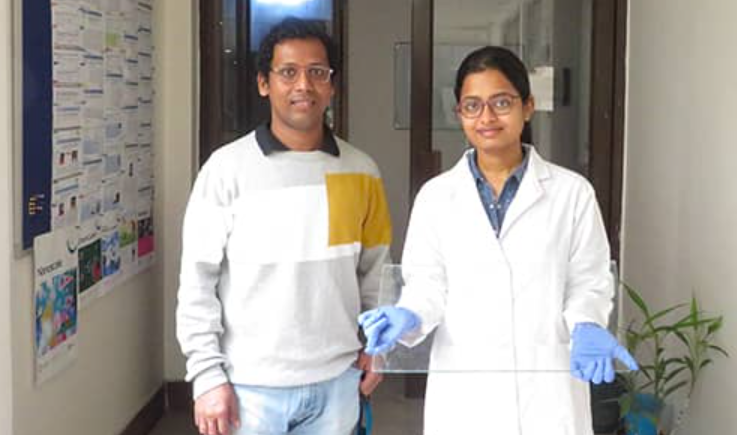 Researchers with the self-healing amphiphobic solid slippery coating applied glass. Source: IIT Guwahati
Likewise, the coating demonstrated sliding droplet behaviors wherein assorted liquids — polar and non-polar organic solvents, water, edible oil, motor and engine oils, and crude oils — simply and effortlessly slid off the coating-treated surface.
The team of researchers demonstrated that the coating could be applied to different surfaces including aluminum foil, glass, paper and plastic, for instance. Additionally, the coating can also reportedly be applied to complex-shapes such as curved surfaces.
The researchers suggest that such a coating could potentially be used to protect smartphone and other device screens from both aqueous and oily contaminants.