Video: Particle separation system efficiently treats nuclear waste
S. Himmelstein | June 08, 2022
The efficacy and economics of treating legacy radioactive waste from nuclear weapons production are expected to improve with a new particle separation system engineered at U.S. Pacific Northwest National Laboratory. The mesofluidic separator-clog-free filtration system could also improve filtration performance in wastewater treatment, food processing, microplastic removal and other applications.
The system is designed to prevent the rate-limiting clogging that frequently plagues operators as small solids become trapped in filters and increase maintenance workload. Unlike current filters that often plug in days if not cleaned, the new treatment equipment is projected to operate for more than three years without a substantial drop in flow rates.
As a slurry flows through the filtration device, small particles travel between rows of slightly offset descending posts, creating flow fields that attract larger particles. The solids cascade in the designed direction and eventually enter an "express lane," comprising 15% to 20% of the cross section and configured to remove large particles from the slurry. The device works in both horizontal and vertical mode for top-down and bottom-up flows.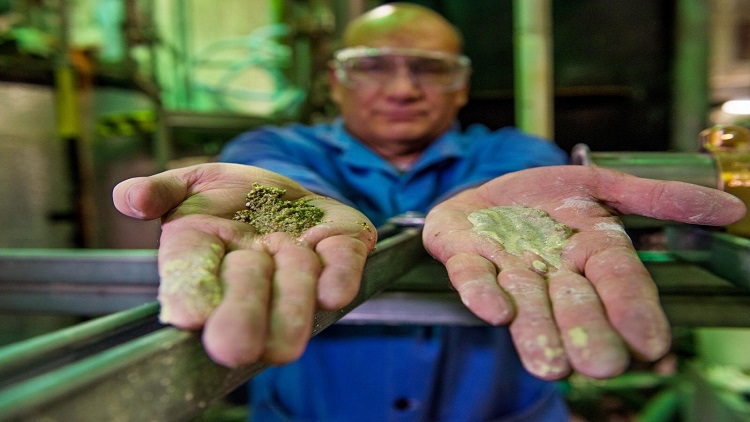 The mesofluidic filtration system efficiently separated 300 micron and larger particles separated out of a slurry mixture. Source: Andrea Starr/U.S. Pacific Northwest National Laboratory
Tests with buckets of granular oxides mixed with water into a slurry to serve as simulated waste demonstrated that the separation technology quickly and effectively separated larger particles from smaller ones at various scales with several different solid-liquid mixtures. The bench-scale demonstration maintained 94% flow over seven hours with no work stoppage due to clogging. The trials were conducted a rate of 90 gallons per minute through a 3 inch pipe, which is considered an optimal flow for industrial operations. A full-scale system can separate particles in the millimeter to submicron range.
Research on the industrial-scale application of the mesofluidic separator-clog-free filtration system is published in Chemical Engineering & Processing: Process Intensification.