Watch: Manta Rays Could Inspire Improved Water Filtration Technology
S. Himmelstein | September 28, 2018
The novel mechanism used by manta rays to strain food from seawater may hold the key to improving industrial water filtration systems.
Manta rays feed by bringing plankton-rich water into their mouths as they swim. Plankton are filtered and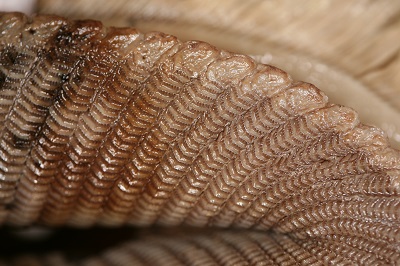 Manta rays have uniquely modified gill rakers that take the form of long, parallel arrays of leaf-like lobes. Source: Oregon State Universityingested as the remaining water is flushed out of gill slits. While industrial filtration systems are prone to clogging, rays are not. Researchers from California State University and Oregon State University have discovered why: these rays rely on leaf-like lobes to move food particles away from the biological filter and direct them into the mouth cavity.
Water passing over the lobes generates a complex pattern of swirling eddies, and food particles in the flow hit the lobes and move away in a process that allows the fish to retain food organisms much smaller than the pores.
Particles are repelled by the filter but not captured, enabling the clog-resistant process to occur at high flow rates. The study, including possible implications for engineered solid-fluid separation systems, is published in Science Advances.