Video: Scrubbing robot automates floor cleaning
Marie Donlon | May 16, 2022
ICE Cobotics, a technology and cleaning solutions company, has developed an autonomous floor scrubber designed by cleaning professionals for commercial use.
The Cobi 18, according to its developer, is a high performance scrubber capable of cleaning a variety of hard floors and its compact design enables it to clean even tight spaces. Additionally, Cobi 18 features a squeegee and dry mop attachments, side brushes and a hopper.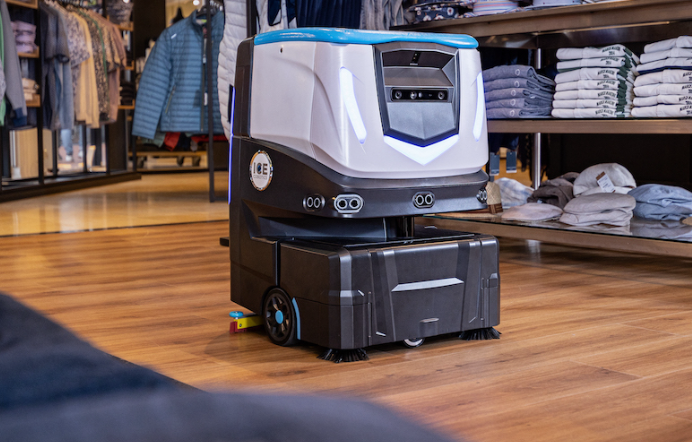 Source: ICE Cobotics
The commercially available robot reportedly uses advanced artificial intelligence (AI) to integrate the data from its various onboard sensors to identify its surroundings and to avoid obstacles, according to ICE Cobotics.
Further, Cobi 18's operating modes include: teach and repeat, which enables users to teach Cobi 18 a route for independent operation; fill-in mode, which traces the perimeter of a space, enabling Cobi 18 to autonomously fill in the interior; route sequence, which enables two pre-programmed routes to run back-to-back; and delayed start, which allows Cobi 18 to begin its scrubbing at a pre-determined time.
Additionally, ICE Cobotics' i-Synergy fleet management software enables users to manage and monitor cleaning performance and get real-time data insights while i-Synergy's Clean Score metric enables users to remotely check cleaning productivity at any site under their management, thereby saving them time and energy.
Currently, Cobi 18 is available via a subscription program that starts at under $20 a day for a 36 month contract. The subscription plan also includes access to i-Synergy fleet management software, repairs and replacement parts, and customer support.
To see the Cobi 18 in action, watch the accompanying video that appears courtesy of ICE Robotics.