New fungal cleaning products remove biofilms from medical tools and food processing equiptment
Siobhan Treacy | June 22, 2020
Researchers from the University of Tsukuba created a new way to clean biofilms by using fungal cleaning products.
Biofilms are slimy layers of bacteria typically found in pipes, food production equipment and on the surfaces of indwelling medical devices. Biofilms can cause problems in many areas, including causing potentially fatal chronic infections. Biofilms are difficult to wipe away because one of their functions is to protect bacteria from threats, including cleaning methods.
Currently, the most effective method to clean biofilms is to use bleach, harsh oxidizing cleaning products and surfactants with scrubbing. This is a problem because bleach and chemicals are unsuitable for use in biological settings, and surfactants can be toxic to the environment and damage surfaces. The team's new method can scrub away biofilms with cleaning agents derived from microbes.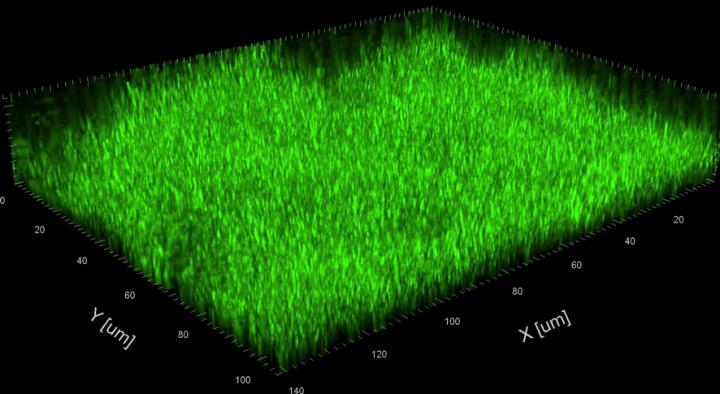 Confocal image of a typicalmature biofilm taken at 12 h. The bacteria are labeled with the DNA stain DAPI but are shown here in green for clarity.Source: University of Tsukuba
Some Candida yeasts naturally product biosurfactants. Sophororlipids have some degree of antimicrobial activity. Using microfluidic channels, the team found that sophorolipids do a better job of disrupting established biofilms than current methods.
The team studied a mutant P. aruginosa strain that produces an excessive amount of biofilm to examine the underlying mechanism behind biofilm dispersal. They found no evidence that the sophorolipids actually killed the bacteria. At most, it weakened the interaction between the biofilm and the underlying surface, breaking the cohesiveness of the film and allowing it to be wiped away.
The team tested the effects of sophorolipids in combination with a widely used chemical surfactant, sodium dodecyl sulfate. The results were promising, revealing synergy between sophorolipids and chemical surfactants and together they created stronger antibiofilm effects. This synergistic approach may open doors for biofilm cleaning and treatment.
A paper on this research was published in Langmuir.