U.S. Solar Capacity Projected to Double in 2016
By Engineering360 News Desk | March 31, 2016
U.S. solar capacity in 2016 will grow by 16 gigawatts (GW), or 119%, led by utility-scale installations, GTM Research forecasts. The new capacity is more than double the amount, 7.3 GW, added in 2015.
With the federal Investment Tax Credit (ITC) initially set to expire at the end of 2016, developers and EPCs filled their pipelines with projects that would come online by the end of this year. In December 2015, Congress extended the credit out to 2019 with a stepdown through 2022 and project completion deadline of 2023 for some projects.
According to GTM Research, the rollout of new community solar programs, new utility-led efforts to enable corporate procurement of offsite solar, and the ongoing debate over the value of rooftop solar are three key trends that will impact U.S. solar demand throughout the year.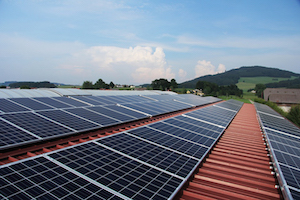 U.S. installed solar capacity is forecast to increase 119% in 2016. Image credit: Pixabay. "In 2016, the rooftop solar economic outlook will depend not only on favorable outcomes to net energy metering debates, but customer-wide and solar-specific rate structure reforms that can impact savings due to solar as well," says GTM Research Senior Analyst Cory Honeyman.
On the non-residential side, photovoltaic (PV) demand will be supported by a triple-digit-megawatt (MW) pipeline of community solar projects. Colorado, Massachusetts and Minnesota will collectively install more than 100 MW of community solar this year.
Looking ahead to 2017, the residential and non-residential PV markets are both expected to grow year-over-year, but GTM Research cautions that the U.S. solar growth rate is expected to slow due to the pull-in of utility PV demand in 2016.
"As the double-digit-gigawatt utility PV pipeline is built out in 2016, utility solar is expected to experience a reset in 2017," says Honeyman, noting that the market will shrink to 10 GW. "But between 2018 and 2020, the extension of the ITC will reboot market growth for utility PV and support continued growth in distributed solar as a growing number of states reach grid parity."
By 2021, GTM Research expects the U.S. solar market to surpass 100 cumulative GW, with an annual installation rate of 20 GW or more.