Report heralds solar capacity growth in U.S. cities
S. Himmelstein | April 12, 2019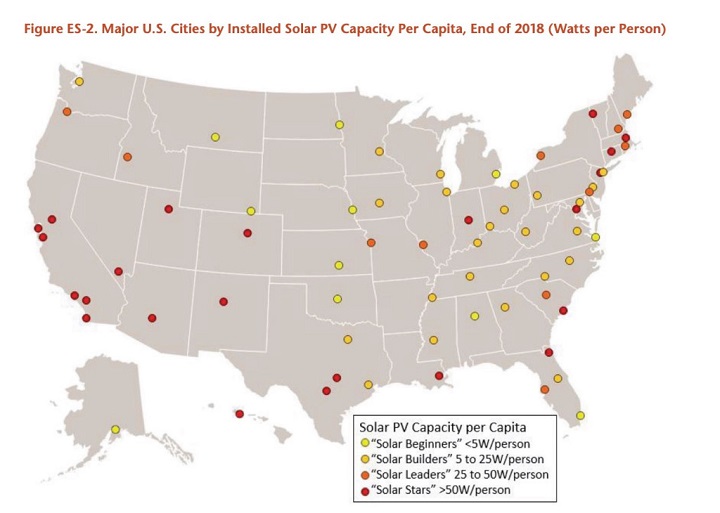 Source: Environment America Research & Policy Center, Frontier Group
Solar capacity is gaining in urban areas across the U.S., according to new research from Environment America Research & Policy Center and climate research organization Frontier Group.
The country now boasts more than 60 GW of solar photovoltaic capacity, and the number of cities with more than 50 MW of installed solar capacity increased from eight in 2013 to 23 in 2018. During that same period, 79% of the 57 cities tracked more than doubled their installed solar capacity.
Hawaii has committed to using 100% renewable energy by 2045, and its capital city ranks first nationwide for solar energy capacity installed per resident. Leaders in per capita solar capacity by census region also include Las Vegas in the Mountain region; Indianapolis in the North Central region; San Antonio in the South Central region; Washington, D.C., in the South Atlantic region; and Burlington, Vermont, in the Northeast region.
To maintain or increase the pace of solar energy deployment, state and local governments are advised to implement solar access ordinances to protect residents' right to generate solar energy on their own property, set or increase renewable energy targets for utilities to supply 100% of their electricity using renewable energy, adopt specific requirements for solar energy adoption, and implement strong statewide interconnection and net metering policies.