Cement companies step up to drop carbon emissions
Amy J. Born | April 13, 2022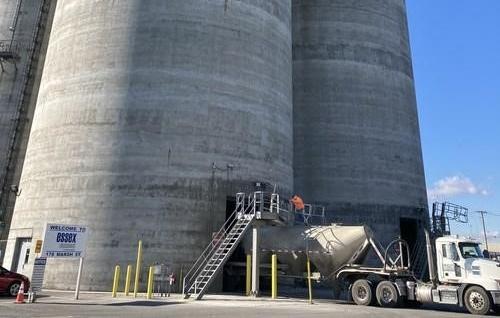 The only cement source in the State of New Jersey, Essex Cement is expected to sell lower-carbon cement, exclusively, by the end of 2022. Source: Titan America LLC
The production of ordinary Portland cement (OPC), in use since the early 19th century, contributes significantly to greenhouse gas emissions, according to WorldCement.com, As cement manufacturers commit to lowering CO2 emissions, they are looking to Portland limestone cement (PLC), which can reduce CO2 emissions by as much as 10% compared to OPC.
That reduction is achieved by lowering the clinker factor. Clinker is 3 mm to 25 mm diameter lumps produced by sintering during the cement manufacturing process. The clinker factor is the percentage of clinker in the mix.
Increased production of environmentally friendly, lower carbon PLC is part of CEMEX USA's Future in Action program to reduce the carbon footprint of its products and operations. Now the company has announced its successful introduction throughout the southeastern United States of PLC, manufactured at its Brooksville, Florida, and Demopolis, Alabama, plants.
"At CEMEX, we acknowledge that climate action is one of the most important issues facing our world, and we are committed to being part of the solution," said CEMEX USA President Jaime Muguiro. "Our company has ambitious emission-reduction targets, and by offering lower carbon products that deliver brilliant performance like Portland limestone cement, we can continue to work toward those goals while encouraging customers to join us in the journey."
CEMEX USA has plans for increasing the use of biomass and other alternative fuels in addition to broadening its product mix with PLC. By the end of 2022, the company expects that these green fuels will make up 30% of total fuel used in manufacturing at the Brooksville plant.
The future of sustainable cement manufacturing
CEMEX USA's ambitious Future in Action program set targets that include lowering CO2 emissions by 40% by 2030, compared to its 1990 baseline levels, and working toward net-zero concrete by 2050.
Similarly, Titan America LLC is now distributing Type IL lower-carbon cement from its Port of Newark, New Jersey, storage and distribution facility — the sole cement source in the state. Essex Cement plans to sell lower-carbon cement exclusively by the end of 2022, from Titan's network.
Type IL cement has a substantial reduction in carbon emissions, aiding goals of lowering carbon in the environment. With this shift, Essex Cement will meet growing customer demand for lower carbon cement as the supplier of choice in this market.
"Our sales are quickly moving to 100 percent Type IL," said Joe Tedesco, sales manager for Titan America and current president of the New Jersey Chapter of the American Concrete Institute. "We see an increase in demand as infrastructure money is budgeted by transportation agencies requiring construction with the use of lower-carbon cement."