How plastic debris helps invasive species hitchhike
S. Himmelstein | March 10, 2022
In addition to posing a pollution problem in marine environments worldwide, plastic debris is also an agent in transporting invasive species to new distributional ranges. An international research team confirmed this phenomenon by documenting the presence of 15 non-native species, including bryozoans and other invertebrates, on beaches on the Catalan coast of Spain.
The intrusive species were attached to plastic debris found both in water samples and on the seabed and beaches studied. The bryozoan species identified on plastics collected from the seafloor are characteristic of shallower areas, and most of the biofouled plastics had lower densities than seawater. According to the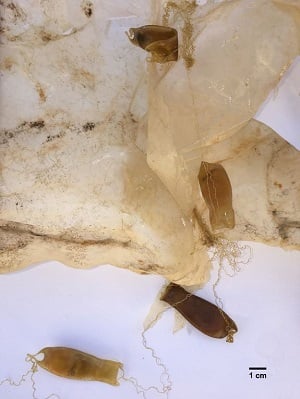 Eggs of the catshark (Scyliorhinus canicula) were identified on plastic debris. Source: Arnau Subías-Baratau et al. researchers, this indicates that colonization of plastic surfaces by different organisms plays an important role in the sinking of plastic debris. Low-density plastics would not end up in the sediments of the seabed if it were not for the added weight of organisms attached to their surface.
Mollusks, brachiopods, annelids and species belonging to other groups were identified on the plastic debris. The most surprising find was eggs of the small-spotted catshark, a ground shark species not indigenous to the study region, attached to plastic.
The study detailed in Marine Pollution Bulletin shows that plastics can act as dispersal vectors, providing substrates that can be used as habitats by a wide variety of marine species, and can therefore eventually alter marine ecosystems. Scientists from Institut de Ciències del Mar (Spain), University of Barcelona (Spain) and University of Oslo (Norway) contributed to this research.