IIoT software platform designed to revolutionize pollution control management
Engineering360 News Desk | February 07, 2022
Anguil Environmental Systems Inc. (Anguil), headquartered in Milwaukee, Wisconsin, has announced the launch of their industrial internet of things (IIoT) software platform and is now seeking participants for their pilot program. Unlike the internet of things (IoT), which largely centers on consumer devices, IIoT focuses on bringing connectivity and data exchange capabilities via an internet connection to industrial and manufacturing contexts.
Anguil's IIoT software platform is tailored specifically for enhancing operational transparency and reporting capabilities for environmental pollution control equipment. Anguil partnered with Siemens to leverage their Mindsphere software, which provides exceptional data security and complex development components and tools, allowing Anguil to develop a sophisticated, flexible and data secure IIoT solution. Anguil's IIoT platform is designed to leverage existing equipment data to improve performance, lower maintenance costs, and prevent unplanned downtime through graphical overviews, KPI dashboards, live trending and document repositories.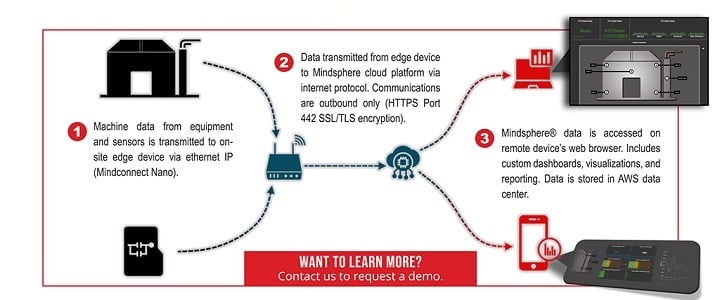 Source: Anguil Environmental Systems Inc.
According to Richard Oakes, client manager and IIoT business development manager, the timing couldn't be better for Anguil's IIoT solution: "IoT has disrupted and transformed widespread consumer markets. Why should the environmental pollution control industry be any different? The industry has been mature for a long time – the next logical step is advanced automation and controls. Until now, there really hasn't been much out there for environmental managers looking to modernize their environmental equipment management strategy. Our IIoT platform is a game changer for them."
To further test and enhance their IIoT platform, Anguil is seeking industrial facilities with existing environmental technologies to participate in a pilot program. Participants partner with Anguil to integrate the IIoT platform with their environmental equipment for a six-month period, providing feedback on the existing interface and input on desired functionality. To qualify as a pilot participant, Anguil is seeking facilities willing to provide Anguil's IIoT team technical access to their system control panel. Besides minimal set-up costs, there is no cost to participate as a pilot customer and no long-term obligation. At the end of the pilot program, participants will be offered the option to continue IIoT services or to end the engagement with no pressure to purchase.
Learn more about Anguil's IIoT capabilities and apply to the IIoT pilot program.