Video: Hydrogen blending project operational in Canada
S. Himmelstein | January 18, 2022
The first hydrogen-blending project in North America is now fully operational and serving about 3,600 Enbridge Gas customers in Markham, Ontario, Canada. The company will initially provide a maximum hydrogen blended content of up to 2% by volume of the natural gas supplied to these users.
This $5.2 million pilot blending initiative involves enhancements to the existing Markham power-to-gas facility built in 2018 to help balance electricity supply and demand by storing the province's surplus electricity as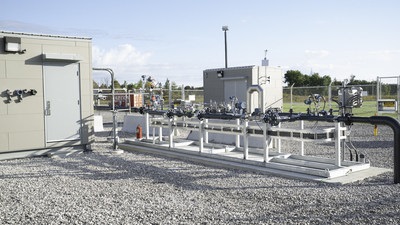 Renewable hydrogen gas now available for blending is produced at a utility-scale power-to-gas facility. Source: Enbridge Gas pure hydrogen until needed. This plant produces approximately 12,000 m3/day at maximum output of renewable hydrogen and has the capacity to store 8 MW of the gas. Blending hydrogen with traditional natural gas reduces greenhouse gas emissions, enabling lower carbon natural gas service delivery without impacting energy costs, reliability or safety.
The venture is expected to eliminate up to 117 tons of carbon dioxide (CO2) emissions annually and help the city of Markham achieve its net zero emissions goal by 2050. The pilot project will not impact the standard market cost of natural gas and will enable Enbridge Gas to develop larger-scale hydrogen-blending activities in other parts of its distribution system, strengthening the capacity for made-in-Ontario clean energy solutions.