Watlow unveils new medium voltage thermal system
Engineering360 News Desk | January 10, 2022
The new POWERSAFE medium voltage thermal system from Watlow is a fully integrated heating and control solution that is a safe, reliable and clean replacement for fossil fuel alternatives in process equipment.
The system integrates an electric heat exchanger, process controller and power system, as well as an isolated low voltage enclosure including an HMI and PLC. It also incorporates a flexible combination of a silicon controlled rectifier and contactor circuits up to 20 MW delivering high-efficiency power greater than 99%,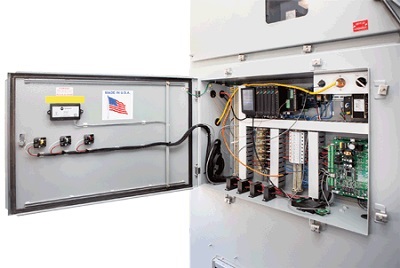 Source: Watlow which reduces the overall size and weight of the power controller solution. The system operates safely and reliably up to 4160 V, eliminating the need for costly step-down transformers. It operates at low current allowing for up to a 90% reduction in cable costs.
The system offers other safety benefits as well such as a high-speed protective relay and breaker for rapid shut down to protect personnel and equipment and safety interlocks for protection during operation.
"Watlow's new POWERSAFE system is an important piece in the electrification process," said Dennis Long, chief system designer for Watlow's energy and environmental technologies business unit. "Manufacturers are shifting from fossil fuel-based energy systems to electric systems to help decarbonize. POWERSAFE is a clean, safe and reliable solution to help make the transition as painless as possible."