Time vs. Conductivity as a Basis for Clean-in-Place Control Systems
April 07, 2017
Sponsored Content
Sponsored content
The ability to clean the equipment used to manufacture food and beverages is an automatic and reliable process whereby cleaning solutions and water are used to clean the entire manufacturing system, without taking apart systems as often as several times per day. This represents a lower cost as well as a more rapid solution that can adhere to regulations and provide a safe, efficient means without the existence of cross-contamination.
When considering the maze of pipes, number of valves and pumps, and sheer volume of instrumentation that comprise clean-in-place (CIP) systems, it is easy to appreciate potential failure risks. Headlines often report large-scale contamination causing widespread illness and even death. Typically, however, these problems are caused by faulty processes and improper cleaning, which can be easily avoided.
Critical to an effective and efficient CIP process is the correct combination of chemicals, water, and time. Conductivity analysis is used to ensure accuracy in all three. Given that chemicals used in the cleaning process are more conductive than the water, conductivity measurements monitor the cleaning process itself, as well as the final flushing of the chemical solutions from the process machinery. Once the process is finished, the cleaned equipment must be ready for operation as quickly as possible.
CIP System Basics
A CIP system provides automatic, reliable and reproducible cleaning that avoids cross-contamination, maximizes process safety, minimizes downtime and delivers products to market more rapidly. The system also assists in optimal resource use, including energy, water, chemicals, and time. The CIP process involves many cycles, such as:
Initial and final drain
Pre-rinse
Sodium hydroxide wash
Post-rinse
Sanitize cycle
The goal, with each of these steps, is thorough cleaning of the machines and the removal of the chemical agents used to clean, to prevent contamination, and to limit chemical corrosion of the equipment. Proper cleaning relies on detergent (chemical) strength, cleaning time, and temperature. Each step can be as fast as a few minutes, or can take up to an hour of time.
Conductivity Measurement
For a CIP process to be effective, there are several requirements. Operators must use the correct concentration of cleaning solutions and ensure that the solutions are completely removed at the back-end of the process. Given that cleaning solutions are more conductive than water used to rinse and flush the system, conductivity measurement plays a key role in monitoring the cleaning process through to the final rinse.
The measuring cell is a homogeneous sealed body made of PEEK. Through the body is a hole, through which the media flows. Built around the hole are two coils; a primary coil supplied with an AC voltage and a secondary coil, which picks up a small induced voltage signal through the media. The voltage strength is directly proportional to the solution's conductivity.
An example of a sensor for use with moderate-to-high concentrations of acid and caustic is the most recent Baumer conductivity sensor, the CombiLyz AFI4/AFI5.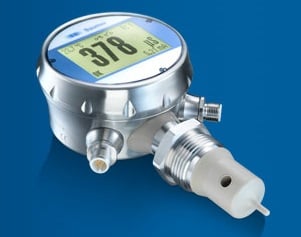 CombiLyz AFI4The CombiLyz AFI4/AFI5 inductive conductivity transmitter for media analysis, differentiation, and separation is designed for applications with medium-to-high range conductivity. The solution consists of a conductivity sensor and a transmitter housed in a single, compact device. CombiLyz AFI5 is a separated product variant available with different cable lengths. Featuring accuracy within 1% and a built in Pt100 sensor for temperature compensation and fast response, the CombiLyz AFI4/AFI5 provides fast and reliable data, and ensures low total cost of ownership.
Features of the CombiLyz AFI4 include:
Fast response time and fast temperature compensation
Intuitive touch screen
Wetted parts in PEEK
Compact, food-compatible, hygienic design meets 3-A requirements; FDA compliant; EHEDG compliant
Features of the CombiLyz AFI5 include:
Electronics separated from sensor
Ideal for confined spaces and for vibration-based applications
Wetted parts in PEEK
Compact, food-compatible design
Meets 3-A requirements; FDA compliant; EHEDG compliant
The CombiLyz AFI4 and AFI5, along with the Combi family of temperature and pressure devices, are used in such applications as:
Control chemical dosing
The control chemical dosing of acid or caustic substances is based on the measurement of a specified concentration. Due to its robust hygienic-designed tip, it offers high temperature resistance up to 140° C, is 16-bar pressure proof, and features a long life cycle.
Within this application, the device provides for ease-of-use with a touchscreen, external program device, split version, different pipe diameter, and integrated linearization curves for both sodium hydroxide (NaOH) and nitric acid (HNO3). In addition, its large display rotates 360° and is free-text programmable.
Tank temperature monitoring

To ensure optimum cleaning effects, the temperature of the detergent inside the tank used for processing must be precisely monitored to result in a constant quality of cleaning process and food safety.
For food or beverage applications, monitoring of the cleaning phase helps to maintain a precise temperature measurement. The sensors feature a robust sensor tip and IP67 and IP69K housing. They are also resistant to high temperatures, up to 250° C, and are 16-bar pressure proof. Setup and reading is simplified via a big display that is 360° rotatable, and the device is free-text programmable.
Continuous level monitoring via hydrostatic pressure measurement
To measure a continuous level of liquid in the tank, Baumer offers a wide variety of sensors depending on the specifics of the application. Hydrostatic technology requires that the programmable logic controller (PLC) receives constant level information—even under extreme temperature conditions up to 200° C in permanent operation.
Features of the technology include EHEDG & 3A approval, excellent accuracy of 0.1% total error, a robust sensor tip, IP67 and IP69K housing, and resistance to high temperatures up to 143° C. The sensors are also 16-bar pressure proof. Ease-of-use features include: a touchscreen, external program device, a different hygienic connection portfolio, and an alarm function with a changing color display. A large display offers 360° rotation and is free-text programmable.
The Importance of Sustainability
Food and beverage manufacturing processes must operate within an environment of sustainability requirements and CIP is typically extremely energy intensive. When system cleaning is ineffective, expensive raw materials such as energy and water are wasted. Methods of attempting to practice sustainability include:
The use of recovery tanks
Reuse of water when possible
Increasing or decreasing rinse for chemical solution cycles
Increasing water temperature to decrease cleaning time
Decreasing temperature to lower energy costs
Use of advanced technology tools to increase CIP process efficiency
Unfortunately CIP systems have not yet been mastered ubiquitously. Many companies still do not know what they can do to increase efficiency or what changes to make to better meet sanitation standards; so they are still caught in the proverbial vicious circle of higher consumption of water, chemicals, and energy than is necessary to avoid contamination.
Fortunately CIP sensors are making the process easier and rapid results more attainable.
The Element of Time
The adage "time is money" was never more true than it is in CIP control systems. Today's advanced CIP sensor-based automation dramatically reduces cleaning time while ensuring maximum food and beverage safety and equipment life.
During the CIP process, the equipment is not contributing to the bottom line. However it is possible to ensure consumer safety and regulatory compliance without making the cleaning process longer. Instead it must be smarter. It is the conductivity analysis—identifying the process phase changes efficiently —that will yield the greatest gains in ClP control systems.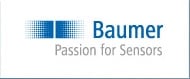 Subscribe to the Baumer newsletter to stay abreast of recent advancements and to make more informed choices when selecting sensors for your application needs.