Video: Cable entry plates for food processing and packaging
Engineering360 News Desk | December 30, 2021
New cable entry plates have been specially developed by Icotek for installation in food processing and packaging machines.
During development of the KEL-DPU-HD cable entry plates and in accordance with hygienic design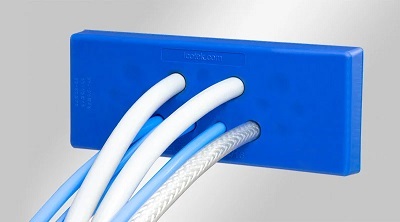 Source: Icotek guidelines, care was taken to ensure that the visible side of the plate is free of dirt collecting recesses. The outer contour has a radius of 6 mm, twice the minimum requirement of 3 mm. The devices are manufactured with a U.S. Food and Drug Administration-compliant elastomer in accordance with food approval 1935/2004/EG and (EU) 10/2011.
The entry plates are designed to route and seal cables without connectors (from 3.2 mm to 20.5 mm in diameter) in limited spaces with IP66/IP68. The cable entry plate is characterized by its solid robust frame and increased strain relief of the routed cables. The KEL-DPU-HD 24 matches exactly the cut-out dimensions of 24-pin standard industrial connectors (36 mm x 112 mm) and is mounted either by screwing it to the inside of the enclosure or by snapping it into the cut-out (wall thickness from 1.5 mm to 2 mm).