COVID-19 robot ensures social distances are maintained
Marie Donlon | December 16, 2021
Researchers at the University of Maryland, College Park, have developed an autonomous robot that detects people violating social distancing rules in crowded spaces amid the COVID-19 pandemic.
The mobile robot, which aims to reduce the spread of COVID-19, detects people in violation of safe social distances — an estimated 6 ft — via a Red Green Blue-Depth (RGB-D) camera and 2D light detection and ranging (lidar) sensor. Once the robot detects a breach in safe social distances, it approaches the violators and issues a reminder via display text.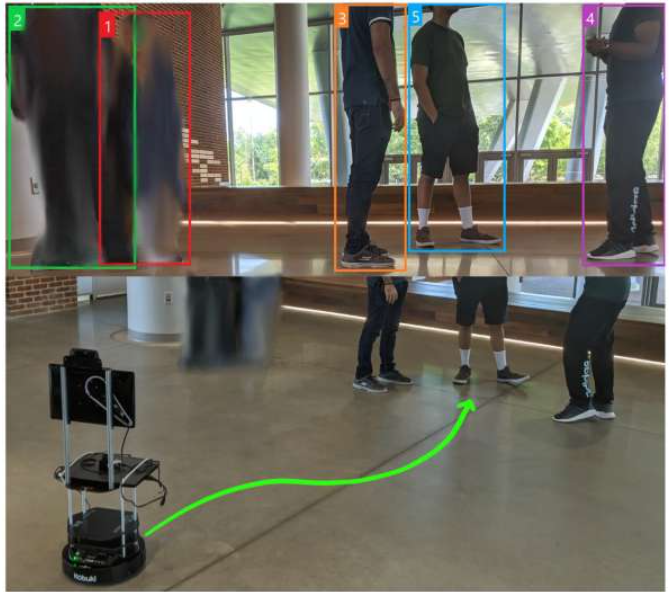 The robot is detecting non-compliance to social distancing norms, classifying non-compliant pedestrians into groups and autonomously navigating to the static group with the most people in it (a group with 3 people in this scenario). Source: Sathyamoorthy et al., 2021, PLOS ONE, CC-BY 4.0 (creativecommons.org/licenses/by/4.0/)
To accomplish this, the robot uses a system to categorize people in violation of social distancing rules, sorting them into different groups and prioritizing them based on whether they are moving or stationary.
The system reportedly uses a machine learning approach called deep reinforcement learning and an algorithm called Frozone, which helps robots navigate crowds.
According to the team, the system was successfully tested on volunteers acting out various social-distancing breach scenarios.
Additionally, the robot also features an on-board thermal camera that detects people's fevers.
The robot makers explained: "A lot of healthcare workers and security personnel had to put their health at risk to serve the public during the COVID-19 pandemic. Our work's core objective is to provide them with tools to safely and efficiently serve their communities."
The study, COVID surveillance robot: Monitoring social distancing constraints in indoor scenarios, appears in the journal PLoS One.