Reducing nitrate in groundwater with organic carbon
S. Himmelstein | December 08, 2021
The use of nitrogen fertilizers in agriculture can result in elevated nitrate levels in groundwater, a problem that can be addressed by the addition of carbonaceous materials to water to enhance denitrification.
Researchers from Ruhr-Universität Bochum (Germany) and University College Cork (Ireland) tested the denitrification effects of different carbon-containing additives in a laboratory-scale groundwater system. Water containing nitrates flowed through sediment-filled columns containing natural microorganisms.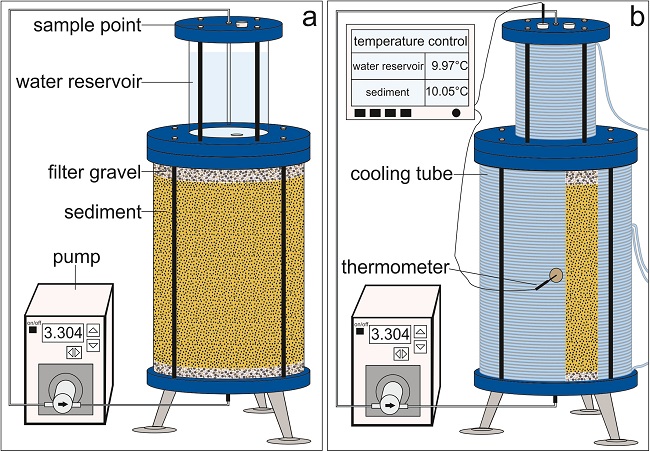 Experimental setup of column tests, (a) Basic setup for experiments at room temperature, (b) Setup with cooling device for experiments at 10° C. Source: F. Ortmeyer et al.
At room temperature and at a groundwater temperature of 10° C, ethanol, acetate, ascorbic acid and glucose were added to the system as carbon suppliers. Temperature was observed to be a major variable influencing denitrification rates, and ethanol proved the most effective electron donor for biodenitrification in groundwater. The nitrate removal power of ethanol was greater at 10° C than at room temperature, while higher reaction rates were documented with glucose at room temperature compared to 10° C.
Implications of these findings for large-scale groundwater remediation project are considered in Water Resources Research.