Video: Ammonia produced with solar energy and wastewater nitrate
S. Himmelstein | September 14, 2021
A sustainable electrochemical device has been designed to produce ammonia from sunlight and wastewater nitrate at 10% higher solar-to-fuel efficiency than currently available systems. The technology offers scope to support on-demand synthesis of fertilizers, pharmaceuticals and other products dependent on ammonia input. The solar-powered system can eliminate the use of energy-intensive, greenhouse gas-emitting processes widely used to manufacture this feedstock chemical.
Nitrate, a ubiquitous groundwater and wastewater pollutant, is harnessed to supply nitrogen and sunlight to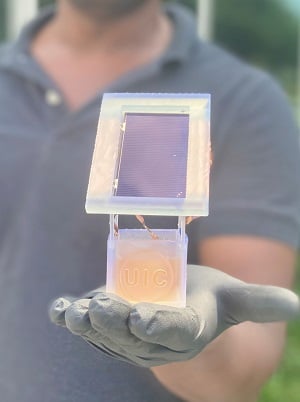 When charged the solar-powered electrochemical device converts nitrates from wastewater to ammonia. Source: Meenesh Singh/University of Illinois-Chicagoelectrify the reaction. The system relies on a selective cobalt catalyst to produce 100% ammonia with nearly zero hydrogen gas side reactions and no greenhouse gas emissions at a solar-to-fuel efficiency of 11%.
The use of wastewater nitrate for this application is envisioned to enhance removal of the contaminant from surface and groundwater resources and reduce health risks from excess nitrate ingestion via drinking water.
A paper on the study conducted by researchers from the University of Illinois-Chicago, U.S. Lawrence Berkeley National Laboratory, University of California-Berkeley, Texas Tech University, Northwestern University, Dow Inc., Warren Township High School (Illinois) and Worldwide Liquid Sunshine LLC is published in Energy & Environmental Science.