Mobile app tracks air quality via satellite imagery
S. Himmelstein | December 03, 2021
A new mobile application from ATos, a developer of high performance computing technology in support of decarbonization services and products, provides the data needed to help different industrial sectors achieve carbon dioxide emission reduction and net zero goals.
The Terra2 app combines satellite imagery offered by Atos' satellite Earth Observation Platform via Mundi Web Services, the world's largest Earth observation program, with scientific research contributions from the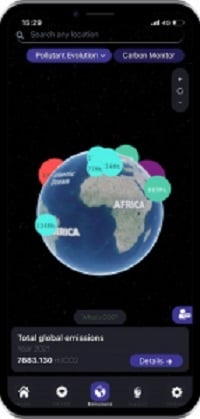 Source: AtosFrench Alternative Energies and Atomic Energy Commission, University of California Irvine and Tsinghua University (China) on carbon monitoring to help understand the effect of CO2 emissions and find appropriate solutions.
Terra² offers a new level of insight to inform policy-making, shape and measure decarbonization initiatives, influence stakeholders and governments in pursuit of net zero, and drive citizen behavioral change for a more sustainable future. Tracking options cover air pollutants, pollutant evolution from the 2015 UN Climate Change Conference (COP21) to the recent COP26 event, carbon monitoring and the ability to document trends across a specific region or city. The app also includes a direct link to information on and online demos of Mundi services such as greenhouse gas monitoring, temperature detection, surface water monitoring, atmospheric pollution and vegetation detection.
The app provides five years of data and is available to download free of charge for Android and Apple users in seven languages.