New CAD360! conveyor system configurator
Engineering360 News Desk | November 17, 2021
Conveyor system designer and manufacturer mk North America has released a new version of its online conveyor modeling tool, CAD360! This latest release features enhanced design tools and better access to equipment models to make it faster and easier than ever to design and share custom conveyor systems from the manufacturer.
The CAD360! conveyor configurator allows for 2D and 3D models to be downloaded for easier sharing across departments and provides engineers with expanded file options for their layout and design needs. There is now also the ability to download SAT files in addition to the other popular download options (STEP, DWG and PDF).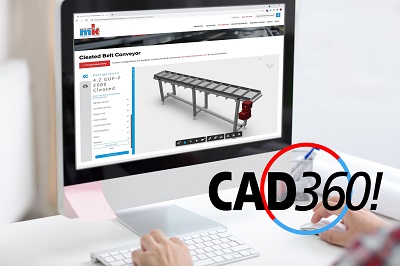 Source: mk North AmericaThe latest version was developed to help engineers, designers and project managers across the industry create conveyor designs simply by inputting values. Users can then incorporate this equipment into their own machine design and submit it for a quote request.
Simply input desired values for length, width and height, select drive location and desired options, and a model is generated on demand.
Live measuring, improved view control and several other interactive modeling tools make it possible for the user to investigate model details right within CAD360!
While users will enjoy the same single-screen integrated configurator that's made the offering so popular, it's now available in an even easier-to-view format. In addition to the model being shown in a larger size for improved user experience, there are also increases in system efficiency.
User changes will now be saved as values are entered. When the 'generate' button is selected, the new model will then be configured and displayed on the screen. This saves time, system resources and speeds up the design process overall.