Healthcare IT: Managing Care Through Technology Innovation
Shane Walker, Director, Medical Technology, IHS | November 26, 2015
As part of the medical technology research methodology at IHS, analysts regularly hold conversations with the vendors providing hardware and software solutions to healthcare providers, as well as the providers themselves. This article highlights a discussion that was held with Courtney Green, director of Nursing at OhioHealth, and Sue Schodorf, application system consultant at OhioHealth. Specific topics covered include medical human capital management (also known as workforce management), cloud-based solutions, analytics and EMR integration.
Human Capital Management IT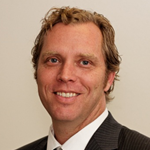 Shane Walker, IHSHuman capital management (HCM) solutions can improve both operational and financial performance, allowing healthcare leaders to effectively handle scheduling, payroll, recruitment, training, acuity-based assignments and other HCM applications to maximize workforce potential. Hospitals have started to shift away from disparate systems towards more integrated platforms that allow for seamless exchange between HCM modules. From recent analysis conducted in HCM, IHS has found that payroll, scheduling and time and attendance applications are fairly saturated product markets, and the majority of future software purchases for these will be replacements. On the other hand, healthcare IT vendors still see plenty of greenfield opportunity for talent management, analytics and patient classification.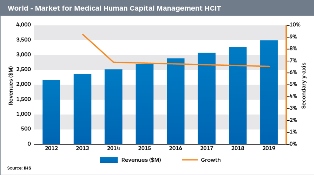 Top vendors in this space in terms of revenue include SAP, Oracle, Kronos, API Healthcare (GE Healthcare), Infor and ADP.The world market for HCM solutions in healthcare is estimated to have been worth $2.5 billion in 2014. IHS projects it to increase to $3.5 billion in 2019 at a CAGR of 6.7% from 2013 to 2019. Top vendors in this space in terms of revenue include SAP, Oracle, Kronos, API Healthcare (GE Healthcare), Infor and ADP.
Shane Walker: In order to maintain operational efficiencies while improving the overall quality of care for patients, and labor costs representing between 50% and 60% of a hospital's operating expenses, we know that healthcare organizations are seeking ways to better manage their diverse workforce. However, despite the high cost of sustaining a clinical team of care professionals, many hospitals and health systems have yet to develop a proactive strategy for managing their future workforce needs. Part of the struggle with strategic planning is trying to balance changing workforce demographics, recruitment and retention needs, price competition and reimbursement reform, shifting service delivery models and the evolving capabilities of IT. Can you tell me about converting your scheduling practices across all of your 26 nursing units? What were the main drivers for this change and were there any integration issues?
Ohio Health: There were widely dispersed practices on monthly scheduling, with varied pay rates and timing of schedule completions. We really needed to find more efficiency. As it stood, we could not quantify personnel hours and dollars spent every month. Streamlining this process has increased manager satisfaction, increased efficiencies and saved labor dollars. We were already using Kronos for payroll, so we did not go through a typical vendor selection process. And adding Kronos for scheduling did not involve a lengthy integration process.
Walker: Which company are you using for your EMR?
Ohio Health: We are using Epic; all major OhioHealth campuses have made the transition to Epic in the last year. Our ambulatory facilities are still on disparate systems but they will be migrating soon as well. There were no real technical issues with integrating scheduling software, however internal training was required.
Walker: Many organizations are increasingly outsourcing non-core IT systems. This is done as a cost-saving exercise, as once such IT systems are provided by a third party the organization no longer needs to provide the infrastructure to host the software, nor the staff to manage non-core IT systems. Examples of non-core IT applications include human resources, payroll, time and attendance and customer relations management. Is OhioHealth making use of software-as-a-service (SaaS) for HCM?
Ohio Health: No, the system is not cloud-based or SaaS. It is installed and managed on-site.
Walker: The U.S. market for both predictive and prescriptive analytics in medical HCM was very nascent in 2014. However, vendors as well as healthcare providers have expressed significant interest in pursuing both levels of analytics during recent research conducted by IHS. Are you incorporating analytics? And if so, are you looking toward advanced predictive and prescriptive analytics?
Ohio Health: We are close to level 1 as IHS defines it, but have no real roadmap for when analytics will be fully implemented. It's not a "must have" at the moment.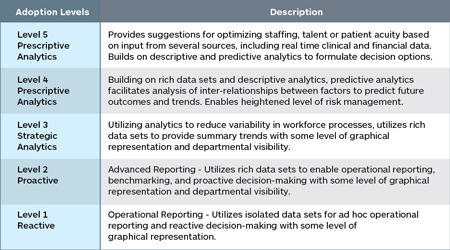 To understand the market maturity for predictive and prescriptive analytics, IHS created an adoption model to survey the provider community. IHS considered utilizing an existing analytics adoption model, but opted to tailor the model to the one presented here. While modified specifically for the predictive and prescriptive market, this model incorporates elements of existing analytics adoption models to provide a level of consistency amongst the industry.
Walker: Did the decision-making process involve clinical practitioners, or was it administrator focused? Also, do you find that there is a one-size-fits-all approach, or are you still seeing a modular approach in general?
Ohio Health: Decisions tend to be made at an administrator level with input from associates, and we do not necessarily see a need for this to change as it is important for all of our units to be aligned to achieve efficiency. Plus, we can build preferences into our current solutions that are specific to each department.
Walker: What is your budget for healthcare IT in 2016?
Ohio Health: We do not have specifics on our upcoming budget yet, however, it is safe to say that clinical applications will continue to take priority, not to mention the migration to Epic requiring significant investment. Nonetheless, investments are still being made in our side of the business as we have discussed with payroll and scheduling, and we expect allocation in HCM to be even higher next year.
Walker: Mobile applications can be used by employees to notify managers that they will be absent or delayed in getting to work. While this could be accomplished through a phone call, there is an advantage of linking this notification to a time and attendance solution because it allows the manager to quickly schedule a colleague to cover the absent employee. This method also saves the employee and manager time in that the notification is logged and approved on the system prior to the employee returning to work. Do you have a mobility and remote access agenda?
Ohio Health: Not at the moment, however, one of our investment areas in 2016 will be mobile and tablet licenses. That said, this is not going to be tied to mobile integration for scheduling purposes but that may change in the next few years.