The REXSON 2-ball pump from Sames-Kremlin delivers superior performance for high viscosity pumping
Diana Aoun | October 26, 2021
The Sames-Kremlin high viscosity range of ball pumps, the REXSON 2B0453, is designed to deliver a reliable and robust solution with a high degree of modularity for a range of applications. The REXSON 2B0453 showcases a suite of performance-driven features as standard, is available with a range of customization options, and is simple to maintain.
Unlike liquid fluid pumping, high viscosity fluids can inflict highly variable mechanical stresses depending on the product. The REXSON 2B0453 double-acting ball pumps have been adapted for high viscosity products by optimizing the passage diameters, the nature of the seals, and the hardness of the materials. They are capable of transferring fluid of up to 50,000 centipoise.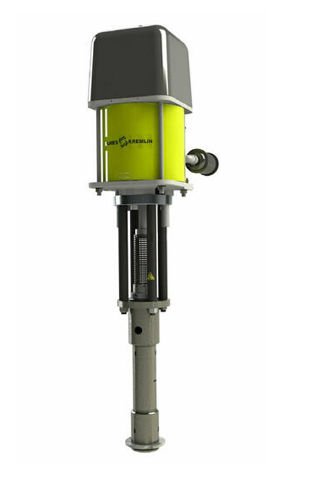 Source: Sames Kremlin
Sames-Kremlin have made it easy to customize pumping solutions to meet specific process requirements. Users can select from a range of air motors according to the maximum pressure, the construction materials according to the nature of the product, pump foot and mounting style, installation requirements and the seal pack preference.
Sames-Kremlin air motors are designed for maximum airflow and feature a pilot distributor to facilitate fast inversion. Motors are also equipped with a broad silencer to avoid water freezing at the motor outlet and can be controlled (start/stop) from a remote air control. The integrated pulse output feature allows the motor to be easily monitored thanks to an air pulse occurring at each reversal. The motor adaptation flange provides a robust assembly of the motor shaft connection to the pump shaft and allows quick adaptation to different air motors.
The upper valve of the pump allows material to pass from the lower chamber to the upper chamber of the pump and is designed to limit pressure loss. The lower valve is essential for the suction of the product and designed to be as wide as possible for easy filling. In terms of service and maintenance, the pump cover is very easy to remove to access internal pump parts while the guard guarantees operator safety by preventing any contact with the moving shaft of the pump.
The REXSON 2B0453 is easily adaptable and can be fixed on a follower plate if needed, immersed in a bung drum, or simply threaded for connection to a manifold. The pump can be used for feeding straight from the product packaging via in-wall mounting or installed on an elevator with a follower plate for open drums.