The new eccentric screw pump from Lutz proves handy for the transfer of viscous media
Diana Aoun | November 29, 2021
The transfer of viscous media from drums and containers is a common necessity across a range of applications. Drum pumps are the typical technology of choice for this purpose but experience limitations when pumping highly viscous media. The new HD-E-SR eccentric screw pump from Lutz Pumpen offers a powerful pump with different electric or pneumatic motor options and is available in smaller tube sizes for light and handy operation.
The HD-E-SR eccentric screw pump utilizes the advantages of the conventional drum pump for viscous media in its design but enhances the technology to make it suitable for the high-viscosity range. Using the effective positive displacement design principle, the pump permits gentle, low-pulsation product handling which is highly advantageous for shear-sensitive media and liquids with solids content.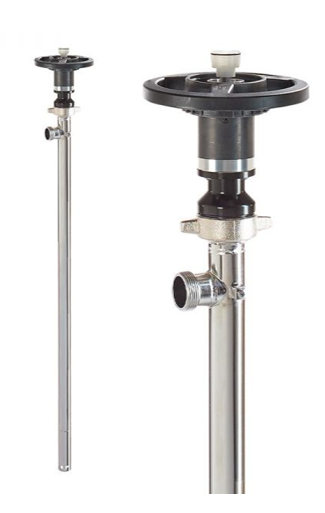 Source: Lutz Pumpen
This positive displacement pump has an easily detachable outer tube, a bearing head with mechanical seal and a free-running shaft with an eccentric screw as the pumping element.
Thanks to the small outer diameter of the pump tube of maximum 41 mm (1.6 inches.), viscous liquids up to 30,000 mPas can be filled. An immersion depth of 1000 mm (39 inches) ensures that particularly small containers with a narrow-necked opening can be emptied almost completely and in a safe manner.
The pump is equipped with the Lutz original handwheel with the option of being combined with Lutz electric or compressed air motors whereby the hand wheel connects the pump tube with the drive motor.
The pump delivers uniform volume flow, is light and versatile due to low motor weight, has an easily detachable outer tube, and provides continuous, low-pulsation delivery of up to 17 liters/min (4.5 US gpm) with a maximum operating pressure of up to 6 bar (87 psi).