Using Nanotechnology to Boost Capacitors' Energy Density
Engineering360 News Desk | November 24, 2015
Researchers at the University of Delaware and the Chinese Academy of Sciences have used nanotechnology to improve the energy density of capacitors.
In contrast to batteries, which offer high storage capacity but slow delivery of energy, dielectric capacitors—which comprise an insulating material sandwiched between two conducting metal plates—provide fast delivery but poor storage capacity. Capacitors are key components of portable electronics, computing systems and electric vehicles.
The researchers used a 3D nanoarchitectural electrode design and fabricated a nanoporous anodic aluminum oxide (AAO) membrane with two sets of interdigitated and isolated straight nanopores opening toward opposite planar surfaces. Carbon nanotubes were then deposited in both sets of pores inside the AAO membrane. This resulted in a dielectric capacitor with 3D nanoscale interdigital electrodes.
The large specific surface area of AAO provides large capacitance, while the uniform pore walls and hemispheric barrier layers enhance breakdown voltage. The resulting energy density of 2 Wh/kg—close to the value of a supercapacitor—is higher than those of other dielectric capacitor structures reported in the literature, says Bingqing Wei, professor of mechanical engineering at the University of Delaware.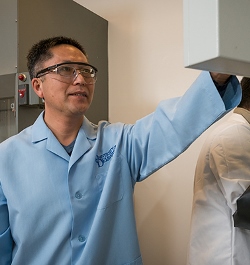 The energy density of 2 Wh/kg is higher than those of other dielectric capacitor structures reported in the literature, says Bingqing Wei. Image credit: Kathy F. Atkinson.The researchers believe that the key to the success of a new capacitor is its interdigitated design, which is similar to interwoven fingers between two hands with "gloves." They say this design decreases the distance between opposing electrodes and therefore increases the ability of the capacitor to store an electrical charge.
Another feature of the capacitor is that the 3D nanoscale electrode offers high voltage breakdown, which means that the integrated dielectric material (alumina, Al2O3) does not easily fail in its intended function as an insulator.
The newly structured dielectric capacitors are suitable for field applications that require high energy density storage, such as accessory power supply and hybrid power systems, Wei says.