Video: Smarter farming with drones
Engineering360 News Desk | October 21, 2021
Evolving drone technology can eliminate many of the time- and energy-intensive annual tasks required for crop and herd operations. An online training course offered by drone and cloud solutions developer Aquiline Drones (AD) can help farmers learn how to better manage agricultural business operations through data using drones and artificial intelligence (AI) for analysis and revenue-maximizing forecasting.
The Smart Farming with Drones module is part of the AD Flight-to-the-Future (F2F) series of online drone pilot training with more training modules currently being developed. The course is tailored for different industries and available to all students after they have completed the basic F2F program and received their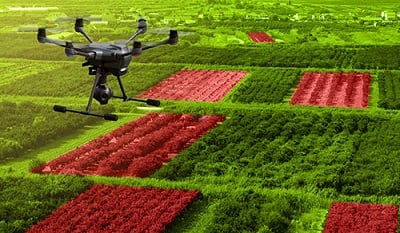 Source: Aquiline DronesFAA Part 107 drone pilot certification.
Elements of the course include:
Defining smart farming and explaining how people, drones and specialized sensors are used to enhance the efficiency of farming activities.
Describing how AI capabilities are effectively used to analyze farming data and further optimize outcomes.
Exploring the wide range of drone-based solutions for farm surveying purposes and learning how RGB, lidar and multispectral sensors are used as drone payloads to scan large expanses of agricultural land in extreme detail.
Understanding how these capabilities come together to constitute specialized drone solutions that can provide key outcomes. Examples include accurate fruit counts for orchard operations, large scale scans to obtain yield estimates, identifying replanting opportunities and ultimately making accurate revenue predictions.
Studying crop health applications – how spectral reflectance properties of vegetation are leveraged to help farmers early-detect crop stress factors and mitigate losses.
Immersion in livestock operations, like cattle counting, animal health and herd management and how drones are being used to support animal farming activities, reduce costs and significantly improve results.
Delving into the benefits of drone-based crop spraying – how fertilizers and pesticides are applied strategically and safely, and how AI determines the exact areas that need to be watered, sprayed for insects or thinned, thus saving time and money.
Investigating how advanced drone solutions can create smart irrigation systems, essentially a multivariate exercise in data-driven optimization.
Learning how drone-based sowing and damage assessments can become powerful operational enhancements, empowering farmers to leverage increasing value from smart farming operations.