Tiny sensor allows farmers to monitor individual plant health
Siobhan Treacy | June 22, 2021
Researchers from King Abdullah University of Science and Technology (KAUST) in Saudi Arabia created ultrathin sensors for monitoring the health of crops that help farmers grow more food without tilling more land.
Intensive agriculture processes are contributing to widespread biodiversity loss and climate change every day. There is also global pressure on farmers to produce more food. Farmers face the challenge of increasing agricultural output without clearing more land and applying excessive fertilizers.
Precision farming could be the solution to this problem. When practicing precision farming, farmers use technology to monitor plant needs and quickly respond with the right amount of water, light and nutrients as needed.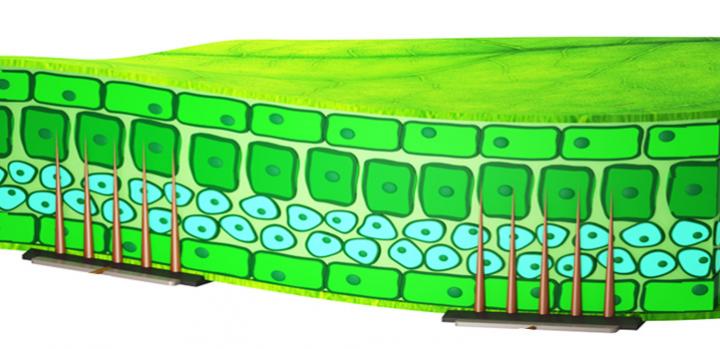 The team is making silicone molds that can be used to manufacture ultrathin microneedles for sustainable farming. Source: KAUST
Currently, precision farming relies on soil-based sensors and drones with special cameras. This technology does not capture changes in plants early enough to encourage more crop growth. That is where measuring bioimpedance comes in.
Bioimpedance is how easily electrical current passes through organic tissues, which reveals physiological information about a given plant. Plants have a thick outer layer that blocks electrical signals. Bioimpedance sensors need to pierce this surface without affecting the properties being measured. It is difficult to create instruments that are small and thin enough for the job.
The team created silicone molds that can be used to manufacture ultrathin microneedles for the sensor. These needles can be released intact by submerging the mold in trichloromethane. The molds are reusable, which means that mass production of the microneedles in plant-friendly polymers could be cost-effective.
The microneedle sensor was tested on Arabidopsis thaliana leaves. The puncture hole from the microneedles was sealed in four days and the plant was not harmed, which allowed for the smooth collection of plant health data.
Next, the researchers plan to explore other environmental factors that could be affecting the impedance of plants. This data could be used to fine-tune precision farming in the future.
A paper on the new precision farming method and devices was published in Advanced Science.