Nuclear transport ship is fully recycled
S. Himmelstein | October 15, 2021
A purpose-built nuclear transport ship decommissioned in November 2020 after 33 years of service has now been fully recycled. Launched in 1987, the Japanese-built ship was the first vessel to transport mixed-oxide fuel from Europe to Japan.
The 3,865-ton specialist nuclear vessel Oceanic Pintail, operated by Nuclear Transport Solutions, has been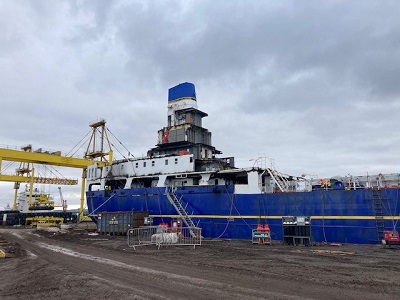 The decommissioned nuclear transport ship has been fully recycled, a first for the U.K. Source: Dales Marine Services100% recycled by Dales Marine Services. The recycling effort involved separating different oils from water for use as furnace fuel, converting insulation into electrical energy, and crushing concrete and tiles to create material used in the construction industry.
Reusing 100% of a nuclear vessel is a U.K. first and supports the government's carbon net-zero policies.