NASA Robots Go to School for Reprogramming
Engineering360 News Desk | November 19, 2015
The U.S. space agency NASA has awarded two life-size humanoid robots to the Massachusetts Institute of Technology (MIT) and Northeastern University for testing and to help develop them for future space missions to Mars and beyond.
The universities will each receive "Valkyrie," a 6-foot-tall, 290-lb. prototype that the agency originally developed for the Defense Advanced Research Projects Agency (DARPA) Robotics Challenge.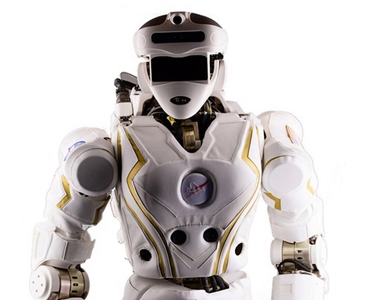 Each university will receive a 6-foot-tall, 290-lb. robot originally developed for the DARPA Robotics Challenge. Image credit: NASA.Valkyrie is intended to be a semi-autonomous, human-supervised ground robot that can execute "complex tasks in dangerous, degraded, human-engineered environments." NASA is interested in humanoid robots because they can help or even take the place of astronauts working in space. Robots like Valkyrie could be used in future NASA missions either as "precursor robots," performing mission tasks before humans arrive, or as robots actively collaborating with the human crew.
"Advances in robotics, including human-robotic collaboration, are critical to developing the capabilities required for our journey to Mars," says Steve Jurczyk, associate administrator for the Space Technology Mission Directorate (STMD).
Both universities will receive up to $250,000 annually for two years to develop the algorithms to make the robots more dexterous. They also will have access to onsite and virtual technical support from NASA. STMD's Game Changing Development Program, which is charged with developing technologies that will one day change the way NASA explores space, will fund the research.
The two university groups were chosen through a competitive selection process from entrants in the DARPA Robotics Challenge. MIT's work will be led by Russ Tedrake, associate professor of electrical engineering and computer science. Northeastern University's work will be led by Taskin Padir, associate professor of electrical and computer engineering.