Video: Solar-powered sanitation system ready for commercialization
S. Himmelstein | October 08, 2021
A solar-powered system engineered at the University of South Florida offers a sanitation solution for remote and underserved areas by recovering nutrients, energy and water from human wastewater.
The NEWgenerator system utilizes anaerobic membrane bioreactor (AnMBR) technology as the core treatment process and combines the advantages of biological anaerobic treatment with the reliability of membrane separation. The fully-integrated system is housed in a mini-shipping container that operates entirely on photovoltaic power.
A bioreactor breaks down waste organic matter as a fine-pore microscopic membrane filter traps bacteria and viruses. Clean water that passes through is then disinfected with chlorine, similar to municipal drinking water. The recycled water can also be used for toilet flushing in the sanitation facilities and for irrigation.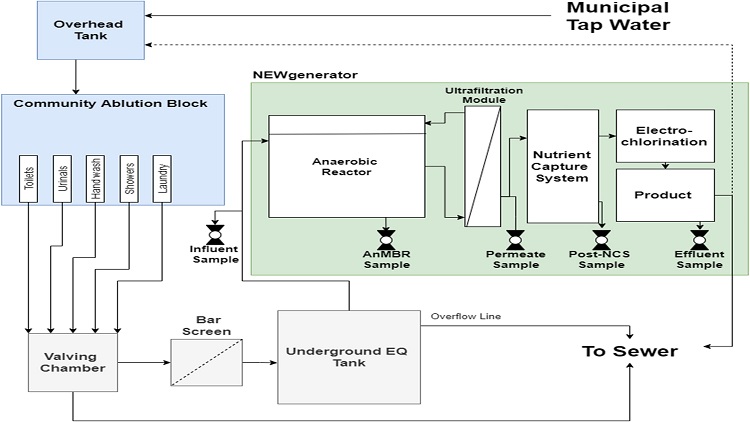 Simplified process flow diagram for the NEWgenerator treatment system. Source: Daniel H.Yeh et al.
NEWgenerator units were successfully field tested at a community in South Africa, where the non-sewered sanitation system will soon be mass produced. The system proved efficient at removing total nitrogen, residual chemical oxygen demand and color. The field trial profiled in the Journal of Environmental Management highlighted room for operational improvements and identified key focal areas for continued research and development.