Iowa State University (ISU) engineers have carried out successful fatigue testing of a material called "Hexcrete," which they say could enable the installation of 140-meter-high wind turbine towers capable of generating more energy than current designs.
The ISU team says the tower sections are easily transportable precast columns and panels made from high-strength or ultra-high-performance concrete. The columns and panels are tied together by cables to form hexagon-shaped cells that can be stacked vertically to form towers. The researchers say these towers can capture the faster and steadier winds that prevail at heights of 100 meters and higher.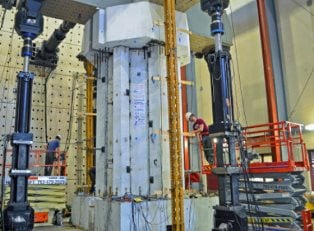 A Hexcrete cross-section is prepared for load tests. Image credit: Sri Sritharan.In one round of testing at ISU's Structural Engineering Research Laboratory, an actuator rocked a 12-foot-high, 6.5-foot-wide test section with 100,000 pounds of force every 1.25 seconds, helping to simulate the twisting loads that towers must withstand.
A second experiment, at the University of Minnesota's MAST Laboratory, tested operational and extreme wind turbine tower loads on a full-scale cross-section of a tower. The assembly was 16 feet seven inches high, eight feet in diameter and included six panels and six columns tied together with pre-stressing cables. Engineers collected data to see if the assembled tower pieces would hold up under the loads and whether they would transfer the load from piece to piece and act as a single unit.
Preliminary analysis confirms that the tower cross-section had no trouble resisting the loads, says Sri Sritharan, ISU Wilson Engineering professor in civil, construction and environmental engineering. The fatigue test is ongoing, with no damage detected after almost 200,000 load cycles.
In addition to enabling taller wind turbines, Sritharan says the Hexcrete towers can be easily transported and assembled on site, cutting towers' production costs.
The team's next goal is to construct a full-sized tower in the field, which will require identifying partners who can help them build a prototype. Sritharan's group will also host technical and commercialization workshops in 2016 to help market the technology.