Sustainable steel to support wind turbine towers
S. Himmelstein | May 17, 2023
Tower production is currently responsible for more than one-third of all wind-turbine-related carbon dioxide (CO2) emissions. The use of sustainably manufactured steel is being pursued by Siemens Gamesa with the launch of its GreenerTower, designed to ensure a CO2 reduction of at least 63% in wind turbine tower steel plates compared to conventional steel.
On average, 1.91 tons of CO2 are emitted during the manufacturing process for every ton of steel. By setting a threshold of 0.7 tons CO2-equivalent emissions per ton of steel, GreenerTower technology aims to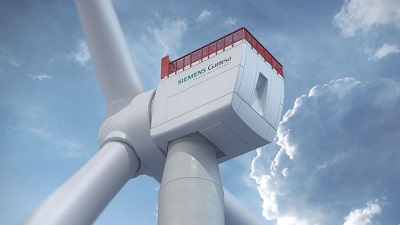 The SG 14-236 DD wind turbine. Source: Siemens Gamesa slash the contributions of the wind energy sector to such pollution.
German steel manufacturer Salzgitter AG is the first supplier to be qualified for this effort. The process to produce greener steel entails increased use of scrap steel, less energy-intensive steel manufacturing processes, and an increased use of renewable energy sources. As one of the measures to decarbonize steel production, for example, the electric arc furnace will be fed with green electricity from offshore wind projects.
In partnership with RWE, Siemens Gamesa will install 36 GreenerTowers at the 1,000 MW Thor offshore wind power project in Denmark. In total, 72 SG 14-236 DD offshore wind turbines are planned to be installed starting in 2026. The new CO2-reduced tower will be available as an option for both onshore and offshore wind turbines for projects to be installed from 2024 onward.