Balancing the German grid with batteries and hydropower
S. Himmelstein | September 09, 2021
To increase grid reliability and enhance the environmental sustainability of its operations, German utility RWE has embarked on a project to integrate massive battery energy storage systems with hydropower. The energy from the batteries will be used to provide frequency regulation within the main grid.
The utility is investing $58.7 million in the development of two large battery energy storage systems in Lingen and Werne. The Lingen project will have a capacity of 45 MW and the Werne project will have 72 MW, both totaling 420 lithium-ion battery racks in 47 shipping containers.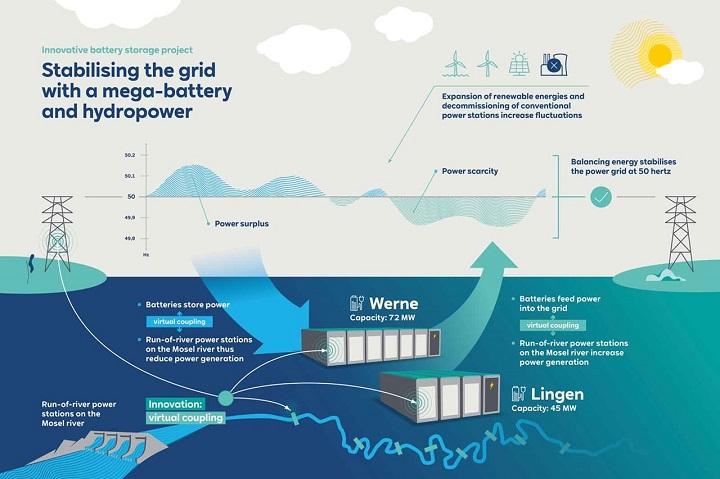 Source: RWE
Once complete in 2022, the energy storage systems will be virtually coupled with RWE's run-of-river hydropower stations. By raising or reducing the flow-through at these power facilities, the utility can make additional capacity available and stabilize grid frequency. This coupling process raises the total capacity of the batteries by 15%.
"Battery storage systems are essential to the success of the energy transition. They help balance out fluctuations in the power grid, which are increasing as the share of renewable energies grows. Our project is setting new standards and shows how we can offer the market even more flexibility by intelligently linking up battery capacity with run-of-river power stations," explained Roger Miesen, CEO of RWE Generation.