Energy Storage Appears Poised to Enter the Mainstream
David Wagman | October 30, 2017
Long considered the holy grail of electric power, energy storage increasingly is seen as a viable option for multiple utilities, including Caribbean island electric grids buffeted by hurricanes in 2017.
For example, instead of rebuilding about 20 miles of transmission and distribution poles and wires, Arizona Public Service (APS) is installing two battery storage systems in a rural part of the state. The investment makes it one of the first electricity companies in the nation to use batteries in place of traditional infrastructure.
The two 4-megawatt-hour (MWh) Advancion batteries are made by AES Energy Storage. Construction on the project was set to begin in fall 2017.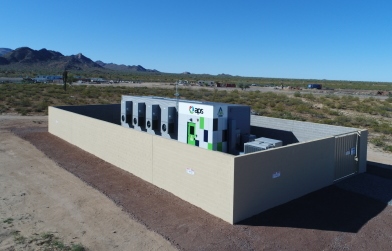 Battery storage deployment in the Arizona desert. Credit: APSMeanwhile, Florida Power & Light plans to add 30 megawatts of battery storage in parallel with more than 160 MW of solar generating capacity. The project is among the largest combined solar and storage facilities in the United States.
The utility provider says that renewable energy paired with what it says is a low-cost battery storage solution "provides a product that can be dispatched with enough certainty to meet customer needs for a firm generation resource."
Xcel Energy CEO Benjamin Fowke told analysts on a late October earnings conference call that the utility, whose footprint stretches from northern Michigan to southeastern New Mexico, plans to make sure that storage "becomes increasingly more of a mainstream part" of its portfolio.
"I never short-change what technology can do," he said.
In May, Nevada lawmakers passed two bills aimed at establishing incentives for energy storage associated with solar systems, and directing state regulators to consider energy storage mandates. The commission has until Oct. 1, 2018 to make its decision.
Grid Support During Hurricanes
AES Dominicana brought online 20 MW of energy storage arrays at two sites in the Dominican Republic, which helped to maintain grid reliability in September when Hurricanes Irma and Maria struck the island.
The two 10 MW arrays provided grid reliability services for the island by improving the efficiency and contributing to the stability of the Dominican Republic's interconnected national electricity system (SENI).
In September, the Dominican grid operator directed AES Dominicana to keep the storage systems online to ensure grid reliability as Hurricanes Irma and Maria approached the island. AES says that both energy storage arrays during the storms performed more than double their usual amount of work.
During the storm the arrays went from a typical operating range of approximately +5 MW to -9.8 MW each, to a wider range of +9.8 MW to -10 MW each, effectively requiring an additional +/-5 MW each, or 10 MW total to maintain a balanced frequency.
APS's Rural Storage Project
Currently, APS is using batteries to store excess solar power for use after sunset, for storing energy to use at peak times, and for other functions such as voltage support.
Its latest battery storage project, however, is unique in that its primary function is basic grid operation. To serve new customers in the growing community of Punkin Center, some 90 minutes northeast of Phoenix, APS was faced with rebuilding 20 miles of power lines over rough terrain. A review of the community's needs showed that adding battery storage would provide benefits at a similar cost to rebuilding the lines.
Scott Bordenkircher, APS's Director of Transmission and Distribution Technology Innovation and Integration, says that "for a community like Punkin Center, the rural location, reduced implementation costs and added technological benefits make it the perfect candidate for this technology."
The batteries will increase power reliability to serve the community of 600 residents. The battery project will be built with the capability to add energy capacity as the need arises over the next five to 10 years. The pair of 4-MWh battery storage systems are expected to be operating by early 2018.
In December 2016, the utility installed two 2 MW batteries in the Phoenix suburbs of Surprise and Buckeye. Batteries will deliver energy to 120 customers with a high percentage of solar generating capacity. Over the next 15 years, APS says it plans to add 500 MW of storage capacity.
"Storage Is Real"
John Ketchum, CEO of NextEra Energy, parent of Florida Power & Light says, "Yeah. Storage is very real now."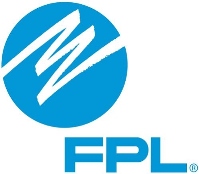 "When you look at where storage economics are, storage costs continue to come down significantly, efficiency continues to improve at a rate where we can now combine storage with solar," he said.
The combination can beat the pricing of nuclear and coal power plants and can be "pretty darned competitive" with combined cycle natural gas-fired facilities.
In June 2016, FPL said it would install several different types of battery systems in Miami-Dade and Monroe counties to research a range of potential future benefits of energy storage, including grid reliability and power quality.
Project components outlined include:
Repurposing used "second-life" batteries from more than 200 BMW electric vehicles to test "peak shaving" for better grid management during periods of high demand via a storage system to be installed in a densely populated residential area in southwestern Miami.
Designing a mobile storage system that could be relocated as needed to prevent power interruptions at major, economically important events such as nationally televised sporting events.
Building a battery back-up system in a section of Everglades National Park - where a visitor center, campground and water treatment facility lie 45 miles from any other electric customer - to study ways to improve reliability for isolated areas and develop microgrid foundations.
During the October 2017 earnings conference call with analysts, Ketchum said that on almost every solar deal the utility is looking at, "counterparties are asking us not only for a solar bid, but also for a combined solar plus storage bid." Development partners "clearly understand the benefits that are created by the firm, dispatchability of the combined product."
The utility envisions roughly $700 million of energy storage investment opportunities through 2020.
Storage and Peaking Capacity
Xcel Energy's Fowke says that although energy storage in some cases can compete on a price basis with combustion gas turbines that are switched on to meet peak demand times, "there's going to be system grid reliability limitations" on the extent to which battery storage can compete.
From a planning capacity, he says, "there are differences between a battery and something that can be fired up 24/7 for days at a time."
He says the utility will continue to conduct pilot projects to better understand the economics, grid capabilities and reliability benefit that batteries can offer.