Thermoelectric material efficiently turns waste heat into electricity
S. Himmelstein | August 03, 2021
A new high-performing thermoelectric material based on polycrystalline tin selenide efficiently converts waste heat to electricity. The development could expand the deployment of solid-state thermoelectric devices in different sectors and could be of enormous value in capturing industrial waste heat from power plants and manufacturing facilities.
In engineering the material, researchers initially discovered that the polycrystalline form of tin selenide had high thermal conductivity, an undesirable property in a thermoelectric device, due to the presence of a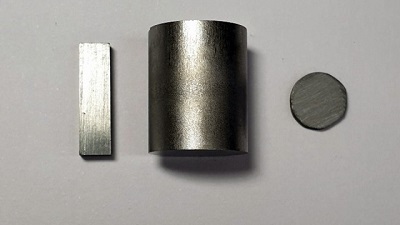 Shown in pellet form, purified tin selenide delivers excellent thermoelectric performance. Source: Northwestern Universityconductive oxidized tin layer. A melting-purification process was devised to remove the deleterious oxygen and minimize the presence of this layer, resulting in a polycrystalline material with thermoelectric conversion efficiency far greater than that of the single crystal form, making it the most efficient on record.
Previous research documented 2.2 to 2.6 figure of merit (ZT) at 913 Kelvin for single-crystal tin selenide. The purified tin selenide in polycrystalline form had a ZT of approximately 3.1 at 783 Kelvin.
Researchers from Seoul National University, RWTH Aachen University (Germany), Northwestern University and Korea Research Institute of Chemical Technology contributed to this development, which is described in Nature Materials.