Tin Selenide Nanostructures Show Promise for Thermoelectric Energy Conversion
S. Himmelstein | March 28, 2018
The excellent thermoelectric properties of single crystal tin selenide prompted researchers from Case Western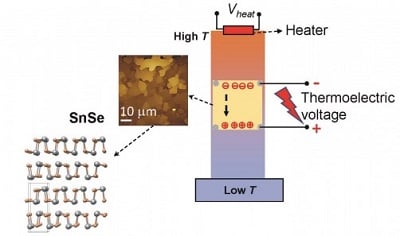 Electric charges in a nanostructured tin selenide thin film flow from the hot end to the cold end of the material and generate a voltage. Source: Xuan Gao, Case Western Reserve UniversityReserve University, Ohio, to grow nanometer-thick nanoflakes and thin films of the material. The team investigates how the temperature difference in a material can cause charge carriers — electrons or holes — to redistribute and generate a voltage across the material, converting thermal energy into electricity.
A thermoelectric figure of merit, ZT, indicates how efficiently a material converts thermal energy to electrical energy. The group's work focuses on the power factor, which is proportional to ZT and indicates a material's ability to convert energy.
A chemical vapor deposition technique was used to grow tin selenide nanostructures, starting with thermal evaporation of a tin selenide powder source inside an evacuated quartz tube. The desired nanoflakes form on the surface of a silicon or mica growth wafer. Addition of a dopant element like silver to SnSe thin films during material synthesis was observed to further optimize its thermoelectric properties.
Inclusion of silver resulted in a 300 percent power factor improvement compared to undoped samples, indicating that the silver-doped nanostructured thin film holds promise for a high figure of merit.
The researchers suggest that such nanostructures and thin films may be useful for miniaturized, low-cost thermoelectric and cooling devices.
The research is published in the Journal of Applied Physics.