3D Printed Drone Tops 150mph at Dubai Air Show
Engineering360 News Desk | November 10, 2015
Stratasys and Aurora Flight Sciences unveiled at the Dubai Airshow in November a drone aircraft built using lightweight materials to achieve speeds in excess of 150 mph. The team used 3D printing for 80% of the design and manufacture of the demonstration UAV, which has a 9-ft wingspan and a mass of 33 lb.
According to Dan Campbell, Aerospace Research Engineer at Aurora Flight Sciences, the project achieved various targets. "A primary goal for us was to show the aerospace industry just how quickly you can go from designing to building to flying a 3D printed jet-powered aircraft. To the best of our knowledge, this is the largest, fastest and most complex 3D printed UAV ever produced."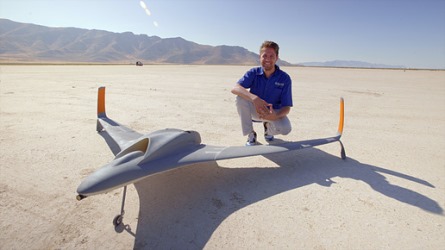 Dan Campbell from Aurora Flight Sciences says the UAV is believed to be the largest, fastest and most complex 3D-printed aircraft yet produced. Image source: StratasysStratasys provided Aurora design-optimization tools to produce a stiff, lightweight structure without the restrictions of traditional manufacturing methods. This also enabled the development of a customized, mission-specific vehicle without the cost constraints of low-volume production.
"Overall, the technology saw us cut the design and build time of the aircraft by 50%," says Campbell.
"This meant using different 3D printing materials and technologies together on one aircraft to maximize the benefits of additive manufacturing and 3D print both lightweight and capable structural components," says Scott Sevcik, Aerospace & Defense Senior Business Development Manager, Vertical Solutions at Stratasys.
The project used fused-deposition modeling (FDM) 3D printing technology, which allowed the team to build an enclosed, hollow structure that allows large, less dense, objects to be produced.
Stratasys chose to laser sinter the nylon fuel tank, and the UAV's thrust vectoring exhaust nozzle was 3D printed in metal to withstand the heat at the engine nozzle.