Royal Navy Ship Launches 3D-Printed Drone Aircraft
Engineering360 News Desk | July 28, 2015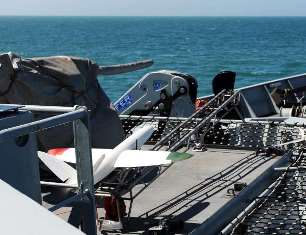 SULSA UAV taking off on test flight. Credit: MOD Crown Researchers from Southampton University have launched a 3D-printed unmanned aerial vehicle (UAV) from a Royal Navy surface ship. The UAV, called SULSA (Southampton University Laser Sintered Aircraft) measures 1.5m long and weighs 3kg (6.6lbs). It was 3D-printed using laser sintered nylon and launched off HMS Mersey into the Wyke Regis Training Facility in Weymouth and it landed on Chesil Beach in Dorset.
The roughly 500m flight demonstrated the potential use of small lightweight UAVs that can be launched at sea, the research team says.
Professor Andy Keane, from Engineering and the Environment at Southampton University, says the UAV was flown under standard Civil Aviation Authority (CAA) rules for sub-7kg (sub-15.4lbs) aircraft.
"The key to increased use of UAVs is the simple production of low cost and rugged airframes—we believe our pioneering used of 3D-printed nylon has advanced design thinking in the UAV community world-wide," he says in a statement.
SULSA carried a video camera to record its flight that enabled the researchers to monitor the flight.
Related Links:
Related Articles:
Dassault Systèmes and Safran Enter 3D Printing Pact for Aircraft Parts
3D-Printed Jet Engine Revved Up to 33,000rpm
3D Printed Parts Can Cut Aircraft Weight, Boost Fuel Efficiency